Do you want a juicer, but you're unsure if you can afford it? Find out how much they generally cost below!
Juicers can cost anywhere from $50 to over $1,000 depending on the manufacture with an average price of $250. Masticating juicers are more expensive because they produce higher-quality juice and can extract more nutrients. Centrifugal juicers are typically of a lower quality than masticating juicers but are faster and more affordable.
In this article, we will look into the difference between a centrifugal and masticating juicer. You will also learn about ten different juicers on the market, and how their prices vary depending on their features and overall quality.
10 Juicer Example Prices
Aicok Slow Masticating Juicer – $93.99
Omega NC800HDS Juicer Extractor and Nutrition Center – $319
Breville BJE530BSS1BUS1 the Juice Fountain Cold Plus Countertop Centrifugal Juicer – $250
Breville BJE430SIL The Juice Fountain Cold – $199.99
Hurom H-AF Slow Juicer – $699
Kuvings Whole Slow Juicer Elite C7000S – $449
Breville BJS700SIL Big Squeeze Slow Juicer – $399.95
Tribest GS-P502 Greenstar Pro Commercial Cold Press Complete Masticating Juicer, Juice Extractor – $795
Aobosi Slow Masticating juicer Extractor, Cold Press Juicer Machine – $115
Angel Juicer 8500 S – $1,329.00
Centrifugal vs. Masticating Juicer
During your search for a juicer, have you come across centrifugal and masticating juicers, but aren't sure what the difference is? Don't worry, we've got you covered!
Centrifugal Juicer
A centrifugal juicer, otherwise known as a "fast juicer" is a juicer that makes juice by forcing the fruits and veggies against a fast-spinning blade that spins at a high speed of 6,000-14,000 RPM.
Two different research studies conducted in 2017 and 2015 found that centrifugal juicers retain fewer nutrients during the juicing process than masticating juicers.
One reason this may occur is that the fast-spinning motor of centrifugal juicers produces a significant amount of heat and friction. This may affect the fruits and veggies, thereby reducing the number of nutrients you get in your juice.
These same studies also found that centrifugal juicers produce less juice than masticating blenders.
However, centrifugal juicers do have some advantages. They are typically less expensive than masticating juicers. They are also very fast, so they are great for people who simply want a quick cup of juice!
Masticating Juicer
Masticating juicers have been found to produce tastier juice, that is higher quality, and richer in antioxidants than centrifugal juicers.
They are often called "slow juicers" because they have low RPM motors. This is important because low RPM motors produce less friction and heat than high RPM motors. This may help retain the enzymes and nutrients from your fruits, vegetables, and greens.
One study conducted in 2015 found that masticating juicers retain all of the vitamins, minerals, enzymes, phytonutrients, and antioxidants from your fruits and veggies, providing 6x more nutrients than a centrifugal juicer.
The same study also found that masticating juicers result in 2x more juice than centrifugal juicers, so you'll get more juice from your fruits and vegetables.
The juice obtained from masticating juicers is superior because it does not contain sediments, has a uniform texture, taste, and retains its natural color!
Below you will learn about ten different juicers that are on the market right now.
10 Affordable Juicers Reviewed
This is a high quality masticating juicer that will retain most of the nutrients from the fruits, veggies, and greens you are juicing.
The Aicok juicer is very quiet, so you'll be able to use it even while your family is still sleeping. It is simple to use and easy to clean up since all of the removable pieces are dishwasher friendly.
This juicer comes with a two-year warranty and lifelong technical support and 24 hours customer service, so if you ever have a problem with your juicer, they've got you covered!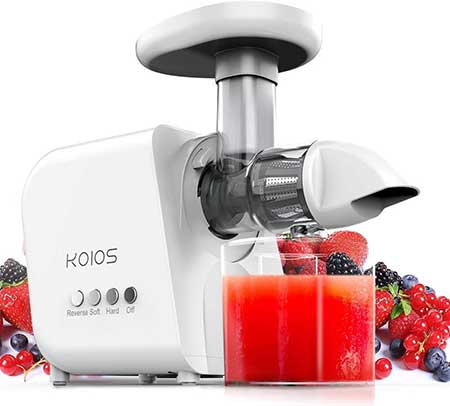 Although it is expensive, this juicer makes fresh, high-quality juice that you and your family will certainly enjoy!
It comes with a low-speed motor that runs at 80 RPM, so it produces minimal heat. This helps prevent any minerals, enzymes, vitamins, or trace minerals from being destroyed, providing you with a very nutritious glass of juice.
The KOIOS Juicer is easy to assemble and clean. It comes with cleaning brushes to make the cleaning process even easier.
This blender only has 5% oxidation, which prevents moist air from getting into the juice, allowing it to stay fresher for longer.
Like the other masticating juicers on our list, the Aicook Juicer rotates at a slow speed, which allows it to yield more juice and preserve more nutrients. The motor is also very quiet, running below 60 dB.
This juicer is very easy to assemble, disassemble, and clean. It is also dishwasher safe for your convenience.
It can extract juice from all kinds of fibrous fruits and vegetables, such as leafy greens, wheatgrass, celery, carrot, apples, oranges, and more.
The pulp leftover from the Aicook Juicer is much drier than the pulp leftover from centrifugal juicers. This indicates that it can extract more juice from your fruits and veggies!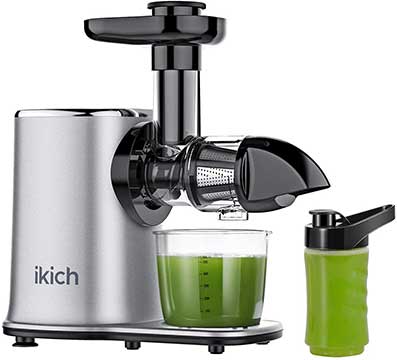 This juicer comes with two speeds. The slower speed is for softer fruits and vegetables, while the faster speed is for harder fruits and vegetables. It also has a reverse function that allows you to get any stuck pulp out of your juicer to prevent clogging.
IKICH juicing technology allows the juicer to squeeze the fruits and vegetables fully so that they release a 90% juice yield. So with this juicer, you'll get your money's worth!
The masticating juicer results in minimal heat buildup and oxidation, which promotes healthy enzymes. It stays fresh for up to 72 hours!
You can safely wash all detachable parts except the juicing housing by a dishwasher. You can easily clean the accessories with tap water and a cleaning brush.
The juicer does not contain any sharp blades, so it is safe for elders to operate.
This juicer comes with a portable bottle and a book of juice recipes, allowing you to discover new juices and carry your juice with you wherever you go!
The COMFEE' Masticating Juicer and Ice Cream Maker is priced at $124.99 on Amazon.
It has slow squeeze and cold press juicing technology, which allows it to retain maximum nutrition and leaves the driest pulp. The COMFEE' juicer comes with one simple control knob, so it is easy to operate.
This juicer has a wide feeder chute that easily accommodates large fruits and veggies, for example, it can fit an orange or a big apple without you having to cut it. It also includes a reverse function to help remove any pulp that gets clogged inside.
One unique feature of this juicer is that it can also be used as an ice cream machine! You simply need some frozen fruit, and you can make some tasty, fruity, ice cream.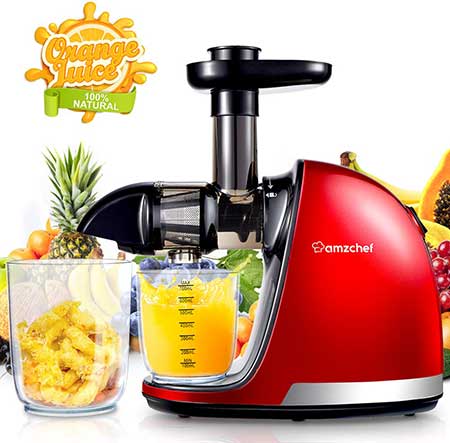 The AMZCHEF Masticating Juicer costs $105.99.
This juicer has a small feeder chute, which prevents children from being injured during juicing.
Over 70% of vitamins are well preserved. The juice is very fresh and can be stored for up to 72 hours without losing any nutrients.
It is very quiet since it is less than 60 decibels.
Its unique 7-segment spiral auger helps extract as much juice from the fruit as possible.
It's made from safe BPA FREE material to protect users. It also comes with a protection system that protects the juicer from overheating and short-circuiting.
AMZCHEF provides a two years warranty.
This masticating juicer costs only $59.99.
The is a portable juicer that you can take with you when you are on the go! It has a cute appearance that was inspired by the look of lipstick!
This juicer has a built-in battery, which allows it to juice 5 cups (6oz/cup) per charge.
It is cordless and lightweight, only weighing 2lb (.91 kg). This enables you to enjoy fresh juice anywhere and anytime!
Thanks to the slower process, this portable juicer can take around 90% of juice out of your fruit and with little to no foam.
Since this juicer is small and portable, it is not meant for high fiber vegetables such as carrots and celery.
This masticating juicer costs $129.97.
The TEC juicer is very convenient to use, seen as though it takes less than 5 minutes to assemble, take apart, and clean!
It allows you to juice all types of fruits and vegetables, including celery, wheatgrass, ginger, carrots, beets, apples, oranges, and more.
This juicer comes with a durable 150 W motor that operates up to 45 minutes per cycle. The motor runs at a low speed of 40 RPM.
This slow speed makes it so none of your fruits or vegetables will be wasted since the pulp comes out dry, meaning you've extracted all of the juice from it. Therefore, you get more juice for your buck!
With your purchase, you also get an e-recipe book that includes healthy and fun juicing ideas.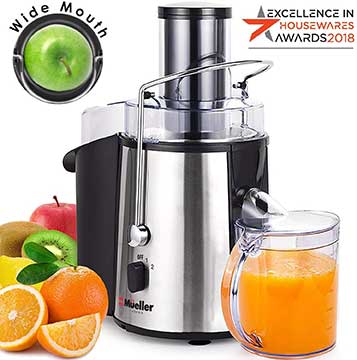 The Mueller Austria Centrifugal Juicer costs $69.97.
This juicer allows you to create a 16 oz cup of juice in just 8 seconds with no clogging and little foaming!
It offers two speeds, a "low speed," which runs from 12000 to 15000 RPM for softer fruits like oranges, tomatoes, etc. The "fast speed" runs from 15000 to 18000 RPM and is used for harder fruits like carrots, celery, beets, kale, and more.
The Mueller Austria juicer comes with a high-quality stainless-steel cutting disc surrounded by an Italian-made micro-mesh filter. This filter allows it to extract more juice, vitamins, and minerals than some other centrifugal juicers.
This juicer also comes with an overload protection system that shuts off the juicer if the motor overheats from an unstable power supply, improper assembly, etc.
This juicer is very affordable, priced at $41.97 on Amazon.
This centrifugal juicer comes with 2-speeds, the slower speed is for soft fruits and vegetables, while the faster speed is for hard produce.
A cool feature of this juicer is that it comes with a wide mouth chute that accommodates most whole fruits. Therefore, you won't have to waste time chopping, slicing, and preparing your fruits and veggies before adding them to the juicer!
It is very easy to use and clean. It has removable parts that are dishwasher safe and are also BPA-free.
This juicer comes with an anti-drip discharge spout, a large-capacity pulp container (which can be easily emptied in a compost or trash receptacle), and a juice jug for refrigerated storage.
Conclusion
The amount a juicer will cost depends on its quality and type. Typically, masticating juicers are more expensive because they tend to be higher quality and can get more nutrients out of the fruits and vegetables than a centrifugal juicer. Centrifugal juicers are still nice and are very affordable, but they tend to produce lower quality juice.
Sources