We've all been there: you're running late to work and running low on fumes, plus you still haven't had your breakfast! If you're used to making green juice smoothies at home, where can you go for the same experience when you're short on time?
The best places to buy green juice include Tropical Smoothie Cafe, Jamba Juice, and Starbucks. All of these options offer nutritious and delicious options for the health nut on the go. However, the best place of all to buy green juice is always at one of your local juicers!
Read on to learn more about some great spots with some great green juice! Or click here to read about Chef V, easily my favorite green juice of all time.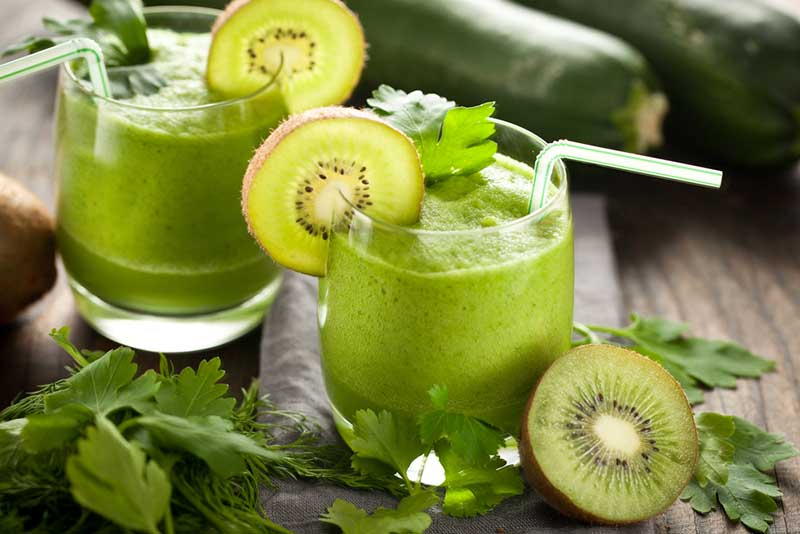 Tropical Smoothie Cafe
Tropical Smoothie Cafe is one of two smoothie chains on this list for three significant reasons: The Avocaloda, The Island Green, and The Detox Island Green. Each of these smoothies includes tasty ingredients and has relatively solid nutritional value. Let's take a closer look.
Note: All dietary stats are for 24oz (680 g) drinks.
The Avocolada
A smoothie with creamy avocados inside? Sign me up!
Tropical Smoothie's Avocolada contains avocados, pineapple, spinach, kale, and coconut. Right off the bat, you get the nutrients of two super greens: spinach and kale. However, you also get some healthy fats from the avocado. The Avocolada is more calorie-dense (600 kcal w/ sugar, 380 kcal w/ Splenda), making it a substantial meal substitute.
Additionally, it contains 9g (0.32 oz) of fiber!
Source: Tropical Smoothie Cafe: Smoothie & Food Menu
The Island Green
The Island Green boasts spinach and kale and a plethora of fruit, including mango, pineapple, and banana. This smoothie is lighter on calories and sugar than The Avocolada. The Island Green has 88g (3.10 oz) of sugar, and The Avocolada has 100g (3.53 oz).
In terms of calories, The Island Green boasts 410 kcal (190 kcal w/ Splenda). However, The Island Green has half the dietary fiber (4g or 0.14 oz)). In comparison to the Avocolada, I would say The Island Green is a lighter option.
Source: Tropical Smoothie Cafe: Smoothie & Food Menu
The Detox Island Green
The Detox Island Green is nearly identical to the Island Green, except it naturally sweetens with ginger instead of sugar. This change makes an impactful difference in many ways.
First, this smoothie is lower in calories (180 kcal, 200 kcal w/ Splenda). Plus, it's significantly lower in sugar with only 29g (1.02 oz)! It also has one more gram of protein and dietary fiber than its predecessor. If you're cutting back on sugar, this drink is a stellar option!
Source: Tropical Smoothie Cafe: Smoothie & Food Menu
Jamba Juice
Jamba Juice is an international juice giant of note, and the company has been offering plenty of delicious, healthy beverages since its inception in 1990. Jamba offers two green juices: Great Greens and Veggie Vitality.
Note: All dietary stats are for 22oz (624 g) drinks.
Great Greens
Great Greens is a stand-out low sugar option from Jamba Juice. Great Greens has an appealing and straightforward list of ingredients: fresh lemon juice, cucumbers, apples, and spinach. A medium drink is only 200 kcal. Plus, Great Greens only has 31g (1.09 oz) of sugar and a whopping 6g (0.21 g) of dietary fiber and protein!
This sugar to nutrient ratio is on point!
Source: Jamba Juice: Great Greens
Veggie Vitality
Veggie Vitality is an equally appealing juice with fresh apples, carrots, and spinach. Yummo!
One of the most impressive stats of this drink is the dietary fiber, coming in at 9g (0.32 oz)! Additionally, the sugar and protein levels are similar to Great Greens at 35g and 5g (1.23 oz and 0.18 oz), respectively. Although this beverage has 30 more kcal, the amount of fiber will make those calories fill you up longer! Sounds good to me!
Source: Jamba Juice: Veggie Vitality
Starbucks
It may come as a surprise to you that a coffee chain would be a great place to get cold-pressed juices. However, Starbucks acquired the juice brand Evolution Fresh back in 2011.
Unlike the beverages I mentioned earlier, these juices are bottled and sold across the US. Furthermore, different Starbucks will likely have certain flavors in stock. However, if you're in a bind, Starbucks can quelch your green drink cravings in a cinch!
Evolution Fresh has a whopping seven cold-pressed juices with greens and veggies in them. So there is a significant chance you will find at least one of them in your local Starbucks location.
Here is a complete list.
Note: All nutritional values are for 8oz (227g) servings.
Shop Local
I listed three well-known chains for the sake of convenience and recognizability. However, you can look beyond big businesses to get your green drink fix! If you want to try something new, or don't care for the chains on this list, consider shopping local.
Delivery services, like Doordash, often offer plenty of discounts to encourage ordering from local restaurants. Plus, you can find plenty of green drink options near you with services like Yelp.
Final Thoughts
In short, you're never too far from some green juice. Smoothie and juicing chains, like Tropical Smoothie Cafe and Jamba Juice, have fresh-made options like The Avocolada or Veggie Vitality. Even places you would not expect, like Starbucks, sell bottled green juice, via Evolution Fresh, for those on the go.
However, the best option is always to support your local businesses when you can.