Smoothies are delicious, versatile and make a great snack or even meal replacement if you're on the go. The list of possible ingredients can be overwhelming when you set out to make a smoothie. To keep it simple you want to choose a combination of dry ingredients (like fruit, veg, grains, nuts/seeds etc) and then add a liquid base to blend it to a smooth consistency. So what's the best liquid to use in your next smoothie?
Well the answer is… it's up to you! Everyone has individual tastes and dietary requirements so it's impossible to select a one size fits all smoothie. To help you decide which liquid base is best for you I've created a complete guide to the best smoothie ingredients.
LIQUID INGREDIENTS
If you've ever tried to make a smoothie without a liquid base you'll understand why it's so important. To allow the ingredients to combine into a smooth paste in your blender, they need enough fluid.
The smoothie needs to be thick but drinkable either by sipping straight from the glass or through a wide straw.
In order to get the correct consistency, we need to consider which liquid ingredient is best. Here are some of the many options available.
Milk (Dairy)
Full fat, half fat, skim or flavored milk the choice is yours! Milk is packed full of calcium, vitamins and protein and perfect to add a delicious creamy flavor. Milk goes especially well with bananas, mangos, berries and oats.
For those of you who suffer with lactose intolerance try a lactose free milk option or a non-dairy milk.
Milk (Non-Dairy)
Vegan? Lactose intolerant? Or just don't like the taste of milk? Well there's tonnes of non-dairy milk options, you're bound to find one that suits you!
Soy Milk
Thick and creamy soy milk is very similar to cows milk in texture. Mild in flavor it can be used in almost any smoothie recipe that calls for milk.
Almond Milk
Another great option for those that can't take dairy. Almond milk is a bit thinner in texture when compared to soy but similarly is mild in flavor. It is a great neutral option (as long as you don't have a nut allergy!) but be sure to check the ingredients listed on the carton as some brands of almond milk are sugary and contain only tiny amounts of actual almonds.
Coconut Milk
This is one of my favorite options when it comes to non-dairy milk. Coconut milk is sweet and creamy and just delicious. It really enhances those exotic fruit flavors and balances the bitterness of green veg.
Oat Milk
A popular choice, oat milk is fairly mild and thin compared with other milk substitutes. What it lacks in consistency makes it a great option to thin out a thicker smoothie.
It won't drown out all those delicious fruit and veg flavors and can be used in place of dairy in almost any recipe.
Hemp Milk
Another fantastic option, hemp milk is similar in taste and texture to almond milk. Great if you're allergic to nuts and it tastes mild enough that it can be used in pretty much any smoothie.
Rice Milk
Rice milk has a very neutral and mildly sweet flavor. It's fairly thin in consistency which makes it an ideal ingredient in thicker fruit smoothies.
Fruit Juice
Fresh juice such as orange, apple and grapefruit, are a great option for fruit based smoothies. Packed full of vitamin C fresh juice not only tastes great but can help you on your way to the recommended 5-a-day.
To keep it healthy be sure and buy fresh juice not fruit juice from concentrate and watch out for added sugar. The major downside to fruit juice is it can be very high in calories so if you're trying to lose weight make sure you check the label and measure the amount that's going into the smoothie.
You can always dilute the fruit juice with some water to reduce the calories and sugar going into the smoothie.
Vegetable Juice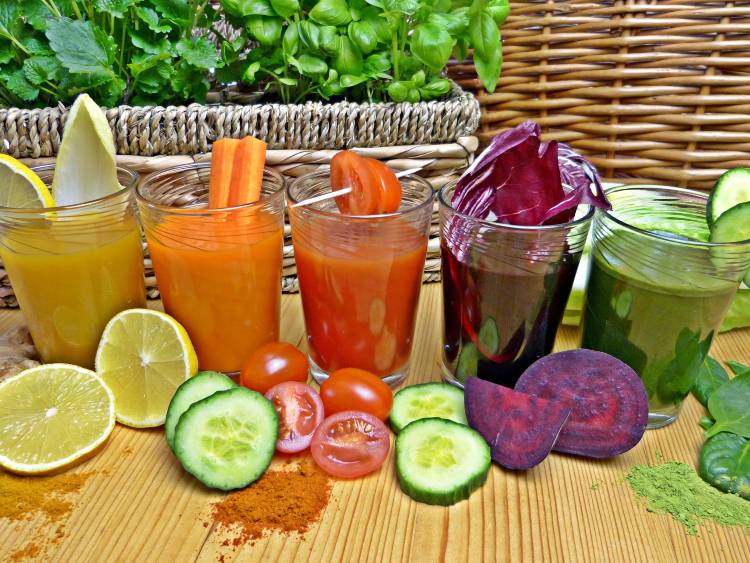 Carrot juice, tomato juice or mixed vegetable juice is going to feel right at home in a veg based smoothie. The richer, earthy flavors are a bit more mellow than fruit juice and will make the smoothie feel more like a main meal rather than a snack. The lower sugar content compared to fruit juice makes them a healthier option as well.
Coconut Water
Milk and juices, although a great addition to smoothies all have one thing in common. Extra calories. Although some options (especially some milks) have a fairly low calorie content, if you're really watching what you eat, then coconut water can be the prefect option.
At 45 calories per cup coconut water is a slightly sweet and very refreshing addition to any smoothie recipe.
Another great benefit of using coconut water is full of vitamins, minerals and essential electrolytes so will work to quickly hydrate you as well as keeping your body healthy. Coconut water is mild enough that it will fit in with any recipe, just sure you don't end up buying a brand that adds sugar to it.
Tea (green, black, earl grey, assam, darjeeling)
If a cup of tea is right up your street then look no further when choosing a liquid to add to your smoothie.
Cold brewed tea is easy to make. Simply add your favorite loose tea or tea bags (the amount of tea used depends on how strong you like it!) to a pitcher of ice cold water and allow it to steep in the fridge for 6-12 hours.
Then strain (or remove the tea bags) and you'll have plenty to add to several smoothies with leftovers to enjoy over ice.
Green Tea
Boasting loads of health benefits from the high levels of antioxidants alongside helping with fat burning, green tea is a healthy, zero calorie smoothie addition. It gives you an energizing caffeine boost so works great in a breakfast smoothie or mid-morning snack!
Matcha
Another form of green tea, matcha comes in a fine powder. It boasts all the benefits of green tea and is easy to use. Simply add the powder to a small amount of water (or milk if you like) and stir it into a paste and then top up. Add to the blender and enjoy the lovely vibrant green addition to your smoothie.
Herbal
If caffeine doesn't agree with you then herbal tea can be a great compromise. Peppermint, chamomile, hibiscus, ginger, etc the list is endless!
Depending on whether you're after a soothing pre bed snack (try lavender or chamomile) or more of an energizing mix (try ginseng or ginger) or if you're prone to digestive issues (try peppermint or fennel). Basically, whatever ails you, herbal teas have the answer.
Health benefits and zero calories, you can't ask for much more than that!
Black Tea
If a darker brew is more your thing then a rich, bitter, black tea like Assam is perfect for you. If this doesn't sound appealing try Darjeeling. It's a lighter, more floral flavor.
Just like green teas and herbal teas, black tea can be an ideal liquid to add to smoothies.
Earl Grey
I had to add this option because I just love earl grey tea! It's essentially black tea with oil of bergamot (and sometimes lemon) added. It has sweet, floral flavors and goes very well in a summer fruit smoothie.
Coffee
If you can't get through the morning without that strong black cup of java, if you're partial to a mid-morning latte or if you're just a fan of coffee no matter what brew then rejoice. Coffee can be used in smoothies to add a delicious depth of flavor alongside that much needed caffeine buzz.
Cold brew coffee is made in a similar way to cold brew tea. First, you need either coarsely ground fresh coffee or whole beans that you can grind at home.
Add the grounds to a pitcher of water (filtered for better flavor) and leave to steep in the fridge for 12-15 hours. Once it's brewed you can pour it into a french press to seperate out the grounds or pass it through a filter.
Once the cold brew liquid is separated it's ready to be used in your smoothie!
Coffee goes great with richer flavors like peanut (or any other nut) butter, cocoa powder, banana, coconut and even pumpkin (think pumpkin spiced latte smoothie!).
Water
We couldn't come this far without mentioning the obvious ingredient that can add a lovely texture to your smoothie. The humble glass of water. Water is absolutely a valid choice when it comes to smoothie making. Whether tap water, filtered water, ice water or even sparkling (best added after blending if you like the fizz!). Water is hydrating, zero calories and a super cheap alternative.
Apple Cider Vinegar
Apple cider vinegar has recently gained popularity due to it's associated health benefits. From aiding weight loss to cholesterol lowering it's certainly earned its place in the healthy category. Simple add 1-2 tablespoons to a cup of water and blend into your next smoothie for a healthy snack.
SMOOTHIE COMPONENTS
So, we've covered the best liquids to use, now let's look into what else is needed to make the perfect smoothie. To help get you started making a delicious smoothie it's easier if we break down the ingredients into categories.
Fruit
First things first, fruit is a key player in most smoothie recipes. When I think of smoothies, multicolored, vibrant, eyecatching fruit is the first thing that jumps into my mind. Fruit can be used fresh, frozen, or tinned to form the main bulk of the smoothie.
Apples and Pears
Fresh or stewed, sweet or tart, apples and pears can really round off a smoothie with a light and refreshing edge.
Citrus
Sour and intense with a full bodied acidity and sweetness citrus fruits like oranges, tangerines, grapefruit and lemons balance any overly sweet or liven up a bland smoothie.
Stone/Pitted Fruits
Plums, nectarines, peaches, sweet and succulent, perfect on a hot summers day. Alongside these but a bit of an oddball, we have the hyped-up avocado. The smooth, creamy texture and mild flavor make it a great base for green smoothies.
Tropical/Exotic Fruit
Bananas, coconut, mango and papaya are rich in texture and smooth in flavor. These are ideal to add bulk to your smoothie in a fresh and creamy taste sensation.
Melons
Watermelon, honeydew, Galia and the list goes on! Another great option to bulk out a smoothie but with higher water content compared with exotic fruits melons are ideal for a lighter smoothie.
Berries
Kiwifruit, strawberries, raspberries, blueberries and passionfruit are all classic smoothie additions. Ranging in flavor from super sweet to mouthwatering, cheek twisting tartness the taste enhancing qualities of berries makes them very popular ingredients in most smoothie recipes.
Veg
Perfect on its own or alongside fruit, vegetables are another key component of most smoothies. Raw, steamed, boiled, frozen or canned there are tonnes of options to suit any recipe. Let's look into some veg options.
Leafy Greens
Kale, spinach, spring greens, collard greens and the list goes on. Leafy greens are packed full of protein and vitamins K, C and A so are healthy and nutritious. A great addition to any smoothie.
Marrow
Pumpkin and squash, lightly steamed, boiled, or canned can add a fibrous base to a vegetable smoothie. Other types of marrow like cucumber and zucchini are higher water content and can be used raw to add a refreshing burst.
Root
Root vegetables like yams and sweet potatoes are packed full of vitamins and fiber, great for your digestion. Steam or bake to reduce toughness and then blended into your next smoothie will leave you feeling full and satisfied. Carrots and beetroot are more examples of root veg that can also be added raw to smoothies.
Plant Stem
Celery or other plant stems (like kohlrabi) are fresh and delicious in green smoothies. Rhubarb is another stem vegetable that can add a tart twist but be sure you remove the leaves first (as these are poisonous!)
Cruciferous
Broccoli, sprouts, and cabbage all have that distinctive, slightly bitter flavor that people either love or hate. Raw or lightly steamed these are bound to make the perfect green smoothie.
Protein
Now we have the fruit and vegetable base the next thing to consider is the addition of protein. Depending on your requirements you may choose to skip this step. Also, some veg is already quite high in protein so may already be enough.
Protein Powder
Adding powdered protein is a simple and quick way to boost any post-workout or meal replacement smoothie. Vegan (plant-based) protein, whey isolate, or powdered beef protein and the list goes on! The options are numerous. Just be careful when you select flavored proteins to ensure they complement the smoothie (unflavored is sometimes the safest option!)
Yogurt
Yogurt is another great protein packed option. It adds a smooth, creamy texture and natural yogurt has lots of good bacteria that help aid digestion. For vegans and those who are lactose intolerant soy, coconut, or cashew based yogurts are a good alternative. Watch out for the ingredients though as some yogurt brands are high in sugar and sweeteners!
Nut Butters
Peanut, cashew, or almond nut butter is a delicious protein rich addition. Just be sure there's not loads of added sugar or unsustainable palm oil to keep the smoothie healthy and good for the planet.
Grains and Seeds
Grains
To add a bit more fiber and bulk to a smoothie, grains like oats, barley, and quinoa can add satisfaction without compromising the flavor. If you prefer a smoother texture then blend the grains first before adding to your smoothie.
Seeds
Seeds can add the perfect balance of essential nutrients, fiber, and protein. Try a sprinkle of chia, hemp, flaxseed, sunflower, or sesame seeds next time you get the blender out.
Ice
Ice is a key ingredient to give you that chilled, frothy texture perfect on a hot summer day. Start the blender at a slow speed and gradually ramp it up until you have a consistent texture. Ice at about 1:1 ratio with the fruit or veg is ideal as any more will water down the flavor too much. You don't have to add ice if using frozen fruit or vegetables or if you prefer a more concentrated flavor.
Sweeteners
Some combinations of fruit and veg require a little sweetness to bring out the delicious flavors. If you have a sweet tooth then try a drizzle of honey, agave nectar, maple syrup, or a few dates to taste.
Spices
To round off your smoothie a pinch of spice is very nice. The options are endless here with almost too many to list. Some of my favorites are cinnamon, ginger (fresh or ground), cardamon, vanilla, cocoa powder, and turmeric.
Conclusion
Smoothies are hugely versatile and there are so many ingredient options it's impossible to list them all.
The liquid base is the cornerstone to any great smoothie and whether you like a creamy milk based smoothie, a super-sweet, delicious fruit juice, an energizing caffeine buzz, or simple hydration using water, there's no limit to your options.
Just choose whichever one best suits you and get creative in the kitchen!