Diuretics are a useful tool when it comes to staying healthy. However, you may be in the camp – like many – that likes to find natural solutions to improving your health. For instance, you may have heard that apple juice, a staple in your refrigerator, can be used as a natural diuretic. Is there any truth to this? And how do you reap the health benefits if it is?
This article will brush up your knowledge on diuretics, but first..
In short, Apple juice is a diuretic, it has the same properties of diuretic medication without the side effects. It can be used to reduce bloating and more easily pass water and salts.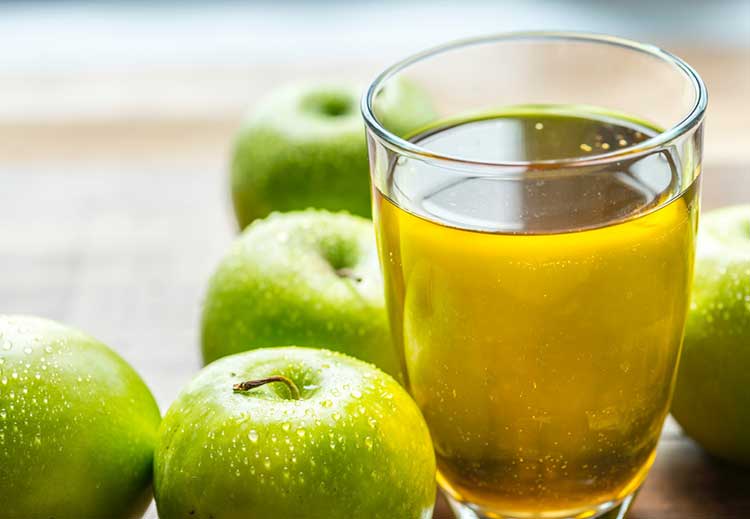 What is a Diuretic?
In the simplest sentence possible, a diuretic helps you pass excess water and salt when you need to, kind of like a laxative. If you're taking diuretics, chances are you'll pee more than normal.
Usually, your kidneys will work hard to filter out this excess water and salt, along with any waste products. Then, the water and salt gets reabsorbed into your blood and circulated round your body. The waste products are turned into urine.
A diuretic interrupts this process. It stops the excess water and salt that we talked about before from getting reabsorbed into your blood. These have to go somewhere, so this is why you pee more if you take a diuretic!
This means that taking a diuretic lowers the overall volume of blood in your body. There are a few different kinds of diuretic that you might get prescribed, depending on your condition and background.
There are a couple of reasons that you could be prescribed diuretics by your doctor:
1. High Blood Pressure
Since diuretics lower the volume of your blood, they can help reduce your blood pressure. Lower volume of blood = lower blood pressure.
2. Edema
Edema is a condition where your body begins retaining excess water and fluid. It can be serious and lead to more serious conditions, like congestive heart failure, which prevents your heart from pumping blood properly. A diuretic can help get rid of this excess water, making it a good medication for dealing with edema.
3. Glaucoma
This is a condition that effects your eyes, and happens when the optic nerves get damaged. In some cases, you might be prescribed a diuretic to reduce excess water and fluid surrounding your eyes, to protect the optic nerve.
Obviously, you should never self-medicate or self-diagnose. If you have any concerns, go and see your doctor. They're the ones that know what they're talking about and can offer some detailed information and personalised advice.
Do Diuretics Have Side Effects?
They do, like pretty much any kind of medication. Depending on your history or current condition, you might be prescribed something other than a diuretic, since they aren't ideal for everyone.
Some of these side effects are:
Increased/reduced potassium in your blood
Reduced sodium levels
Increased blood sugar
Increased cholesterol levels
Headaches, dizziness or tiredness
Being thirsty or experiencing muscle cramps
Rashes on your skin
Gout
Diarrhea
Some side effects could potentially be more severe, like kidney failure or an allergic reaction, which is why it's so important to go and see your doctor if you have any concerns.
So, is Apple Juice a Diuretic?
Right… we've made it this far. Let's get to the question we actually want to answer with this article!
Is apple juice a diuretic?
With the potential side effects that could come with diuretic medication – sometimes referred to as 'water tablets' – it's understandable that you might want to seek out some natural diuretic alternatives.
Good news! Apple juice is a natural diuretic. So drinking apple juice can help to reduce bloating, in a similar way to diuretic medication but without the side effects.
Double good news! Apples are one of the best fruits to use for juicing. They're firm and full of juice, so your juicer will have no problem sorting them out for you. Plus, they're really tasty, readily available and they aren't going to break the bank.
3 Health Benefits of Apple Juice
If I were to list every single health benefit of apple juice in this article, you would be here a long time. Apples are incredibly nutritious and bring a whole host of health benefits that we all need. Below are some of the main benefits, but if you would like the full list, check out our article that specifically covers the health benefits of apples here.
1. Heart Health
One of the big health benefits of apple juice is the way it looks after your ticker. Apples decrease your risk of heart disease and heart attacks because they're a great source of flavonoids. Flavonoids are a chemical naturally found in apples that are great for keeping your heart healthy, although they are more likely to be found in natural, whole apples, rather than processed ones. As well as flavonoids, apples are also high in potassium, which keeps the electrical system your heart runs on working smoothly.
2. Strengthens Immune System
Apples are a good source of Vitamin C and the antioxidants that I mentioned in the last point: flavonoids. This is one you've probably heard a hundred times before but regularly getting your Vitamin C strengthens your immune system, so you can fight off germs, colds and flus. However, flavonoids are arguably even better. Their antioxidant quality means that they fight off free radicals – molecules that can destabilise DNA and cause irregularities, like cancer.
3. Prevent/Delay Alzheimer's
Alzheimer's is a disease impacting a growing number of people and can be really devastating. It's a condition that means the brain degenerates over time, limiting a person's ability to function. Tests have shown that 2 glasses of apple juice a day have the potential to reduce the amount of the 'senile plaque' protein that builds in the brain and worsens the disease. Having apple juice may also prevent the development of the disease, so could be an easy preventative measure to protect your brain health.
There are lots of other health benefits, like I said earlier. Apple juice can be used as an anti-inflammatory; it can lower cholesterol levels; and assist in weight loss. If you're interested in these, then have a read of our article that can give you some more information.
Side Effects of Apple Juice
Like anything else, it's important to make sure that you drink apple juice as part of a healthy diet – which means trying to keep a good balance. Too much apple juice can cause some side effects:
Higher Risk of Diabetes
Apples and apple juice are similar to lots of fruit juices, in that they have lots of natural sugars. Eating too much sugar in general can increase your chances of developing Type 2 Diabetes. One or two glasses of apple juice a day is more than enough to enjoy the health benefits, without getting your blood sugar too high.
Higher Risk of Kidney Stones
This side effect surprised me, but it's true. Apple juice contains a lot of oxalate (a naturally occurring chemical) and kidney stones are made from a mineral combination called calcium oxalate. So, if you're taking in more oxalate than is recommended, you have a greater chance of developing kidney stones.
Tummy Trouble
Again, having excessive amounts of anything will make your stomach unhappy, so this isn't specific to apple juice. Problems can range from diarrhea to constipation, or even the dreaded flatulence… so again: 1-2 glasses a day is just right to benefit from apple juice's diuretic effect and other health benefits, without creating more problems!
Interestingly, you should also avoid apples if you're suffering from urinary tract infections. While cranberry juice and apple cider vinegar are a common home remedy for UTIs, the high ph level of apples means they may be too acidic, with the potential of making a UTI worse.
3 Apple Juice Recipes
We've put together some juicing recipes for you that include apple juice to get you started. They're easy, tasty and above all – healthy!
This recipe is really simple but delicious and hydrating. It includes apple juice – our star of the hour – but it also contains celery juice, which also acts a natural diuretic. This is a simple, refreshing option that's great to start your day right.
This sounds deceptively plain but the combination of apple juice and orange juice is super tasty and zesty. There's also honey in this juice recipe – everyone's favourite natural sugar! This is a sweet treat that you don't have to feel guilty about, so if you're trying to lose weight, this could be a good option. Just remember to account for the natural sugars in both the honey and the fruit, adjust the rest of your diet accordingly so you don't have too much!
There are lots of layers of good, healthy stuff in this juice. The apples are there, with all of their lovely nutrients but another important ingredient in this juice are the carrots. Carrots are also high in beta-carotene, which turns into Vitamin A when we ingest it. Vitamin A is fantastic for your skin, as well as the Vitamin C that's in both the carrots and the apples. This is the ideal juice for detoxifying your skin
Are Other Fruits Diuretics?
If you're looking for the diuretic effect of apples, but are worried about getting bored of your apple juice, never fear! There are several other fruits that act as natural diuretics, which you can use to keep things interesting. These include:
Lemon juice or other citrus fruit juices
Pineapples
Blueberries
Grapes
Cherries
Peaches
Fruit juices that have high levels of potassium generally act as a natural diuretic, since potassium is what helps you pass sodium.
Vegetables and certain other foods also have diuretic qualities, such as:
Cucumbers (technically a fruit, but I'm putting it here)
Asparagus
Beets
Pumpkins
Green beans
Spinach
Kale
Cilantro
Parsley
Artichokes
Seaweed
Onions
Leeks
Celery root and seeds
There are also herbs which you can use as a natural diuretic, like:
Dandelions
Ginger
Hibiscus
Hawthorn
Juniper
Horsetail
Nettles
Black cumin
If none of these float your boat, then other options include naturally made chocolate; coffee; and caffeinated teas, since caffeine has diuretic qualities too. These are just, arguably, not as good for you as the lists above.
All in all, apples have proven themselves to be one of the ultimate superfoods. They protect you all the way from your tiny blood vessels to your major organs. If you're looking for a natural diuretic, they don't come much better or easier than the apple, especially if you have a juicer. There are lots of tasty options – healthy never has to be boring!