Juicing is one of the latest health fads to hit the fitness scene, as a quick glance at social media will show you tons of health and fitness influencers sporting their green juices and smoothies. But what they don't talk about is how much green juice you should be consuming for optimum health. How much green juice should you drink before you're not getting the optimum nutrition for your health?
You should drink 16oz (473.2 milliliters) of green juice per day for optimal health results. Drinking an adequate amount of green juice every day will provide you with your suggested serving of vegetables and fruits, and give you the necessary nutrients per day. Juice cleanses are not recommended.
If you want to know more about the ideal serving size, whether to use a juice cleanse to undo a weekend of unhealthy eating or if there are any cons to drinking green juice, you've come to the right place. Let's get started, shall we?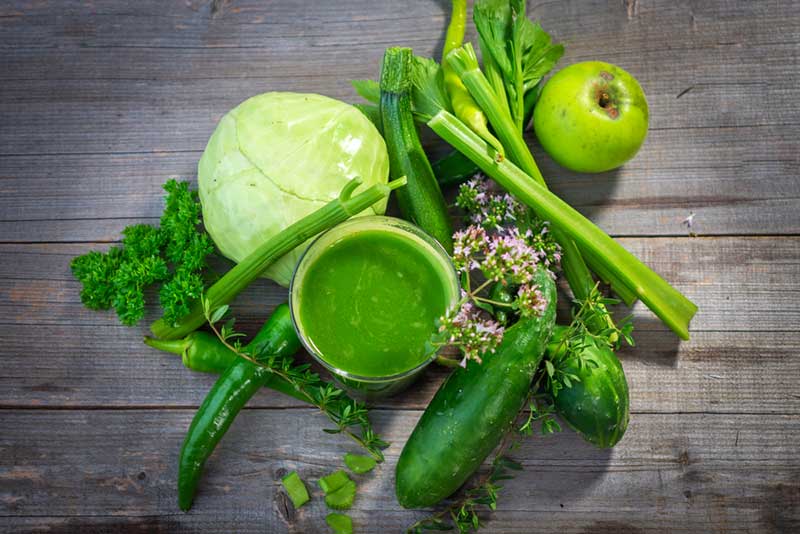 How Much Green Juice Should I Drink?
A daily serving of green juice is an easy way to reach your daily recommended serving of fruits and vegetables. When you drink your veggies instead of eating them, you can easily provide all the nutrients your body needs in one serving per day.
Some people swear by a total cleanse of drinking only juiced vegetables and fruits for a few days to reset your system, which can only work if you are also eating protein and fiber, and other essential nutrients that juice doesn't provide.
However, most of the time, it's safer and easier to add juice to an already healthy diet. Drinking green juice twice a day has many health benefits, including weight loss, immune system boosting, healthier skin, and more, and it's a great way to get your vegetables and fruits without extra hassle.
What Should the Serving Size Be?
Adult women should consume approximately two and a half cups of vegetables a day (three cups a day for adult men), which can seem daunting (unless you're a rabbit, three cups of raw carrots won't be easy to eat). Juicing helps remedy that, and with an excellent juicing machine, you can get most of the nutrients from your vegetables through a straw.
The ideal serving size of green juice is sixteen ounces twice per day. Juice in the morning and evening before meals will help your body digest better because it is easy to digest and will give you micronutrients faster than just eating the vegetables. You can drink the juice with meals if you want to, but it's easier for your body to digest them separately.
Sixteen ounces in the morning and sixteen ounces at night is the ideal way to add a green juice to your diet, as it is better for your body than using juice as meal replacements, and can be integrated into your daily routine. If you can only do one serving of juice a day, it's better to drink it in the morning to wake up your digestive system and give your body access to nutrients all day.
What if I'm on a Cleanse?
Juice cleanses are a way to reset your body, usually after an unhealthy weekend of eating (holidays can be tricky). If you are trying to lose weight, a juice cleanse is not a healthy way to do it, as the fiber you would otherwise get from eating the vegetables is missing. Fiber counteracts the sugar content found in fruits and vegetables, which signifies satiety. You could easily gain weight when using too much green juice on a cleanse.
If you really want to cleanse your body of unhealthy eating, try intermittent fasting, which can help your body start burning fat instead of glucose for energy.
When eating clean (primarily proteins and low-carb vegetables), a juice cleanse can help reset your body and detox it from the chemicals in processed foods.
To do a juice cleanse, drink sixteen ounces of green juice and water four to six times a day. You might be running to the bathroom more often, but the nutrients in the veggies and fruits will assist your body in a natural detoxification. Eat a small amount of protein and fats to offset the higher sugar intake.
What Should I Put in My Green Juice?
Most green juices are primarily made of vegetables, with minimal fruits and herbs for a more diverse taste. The idea is not necessarily to taste delicious but to offer your body nutrients and vitamins. While some people insist that green juice shouldn't taste very sweet at all, many will add a little fruit to help with the taste.
As long as you include greens and vegetables, you can add whatever fresh foods you want to your juice. Once you know what you like and have identified your health goals, you can create your own recipes. Here are some of the most common ingredients (vegetables, fruits, and herbs) for green juice mixes:
Kale
Spinach
Swiss Chard
Celery
Wheatgrass
Cucumber
Fennel
Beets
Radishes
Tomatoes
Carrots
Various berries
Citrus fruits
Apples
Kiwis
Watermelons
Pears
Peaches
Pineapples
Ginger
Mint
Basil
Parsley
What Are the Benefits of Drinking Green Juice Everyday?
There are many benefits to drinking green juice every day, which can vary with the ingredients. Some vegetables have different vitamins for various results, so if you want to focus on one health area, you can change your ingredients to match your health goals.
Here is a brief list of the positive impact daily juice drinking can have on your health:
Provides the daily recommended servings of fruits and vegetables.
Gives fast-acting micronutrients that are used almost immediately.
Aids gut microbiome for better digestive health.
Helps with weight loss and natural detoxing.
Boosts immune system.
Keeps skin healthy and young-looking.
Protects heart health.
Are There Cons to Drinking Green Juice Regularly?
Although the health benefits greatly outweigh the disadvantages of regular juicing, there are some things to watch out for when drinking a lot of juice. The sugar content (even in juices with mostly vegetables) can be high, affecting your blood sugar levels and kidney functions. If you suffer from kidney stones, juicing can increase the difficulty of passing them.
Because the juicer takes the juice from the fruit, it doesn't include all of the nutrients and fiber found in the skin and pulp of many fruits and vegetables. Regular bowel movements depend on the fiber found in the skin and pulp from vegetables.
Smoothies offer an alternative (because they blend the whole fruit or vegetable), and the combination of juice, protein, and fiber can detox your body without danger.
Juicing won't leave you feeling full, which isn't a con, however. It's your body telling you that you need more substance than juice. Listen to your body and eat what you need to in addition to the juice. As long as you eat healthy and round out your diet, the cons of juicing might not outweigh the benefits.
Final Thoughts
The addition of green juice helps any diet or workout regimen, as long as you consume the right amount of proteins, fiber, and calories. Drinking 16-32 ounces (473.2-946.4 milliliters) of green juice every day will improve your immune system, skin, heart, digestion, and overall health. You can drink your vegetables instead of eating them if you decide to start a daily green juice dose.
Even so, if you eat a healthy diet comprised mainly of fruits, vegetables, and proteins, you more than likely won't need to drink green juice very often.
Sources