Juice cleanses are a common choice when starting on a journey for weight loss and improved health. But with so much information out there, it can be hard to know how much to have.
You should drink 64 ounces of juice a day in a juice cleanse. You can also break it up into eight 8 oz juices or four 16 ounce juices. While 64 oz of juice is the general recommendation, this might need to be adjusted based on your activity levels.
If you opt for a done for you cleanse like Chef V offer then you'll get 4 juices, two protein shakes and one soup each day.
Adding fruits and vegetables to your diet has proven to improve both mental and physical health—yet most of us don't get enough. Pour yourself a glass of green goodness and learn what a juice cleanse is and how to effectively complete one.
Related Reading – 6 Best Juice Cleanses For Weight Loss and Detoxing 2023
Drinking Enough Juice During Your Juice Cleanse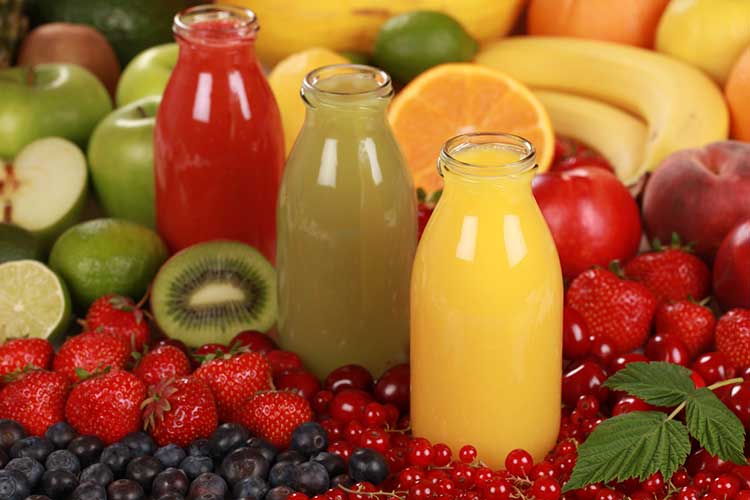 When on a juice cleanse, your body is expected to rely on liquid instead of solid food, which can be more difficult to properly track your daily caloric intake. In order to receive proper nutrients, the general recommendation is that you consume 64 oz of juice per day—typically consisting of anywhere between 600 and 1,000 calories.
However, you shouldn't drink 64 oz of juice in one sitting. This should be broken up throughout the day, drinking a juice every two to two and a half hours. If you drink six to eight juices throughout the day, they should average 100 – 140 calories per 16 oz bottle.
Keep in mind that if you are engaging in physical activity, you will need to consume more (or higher calorie) juice to ensure your body is still receiving proper nourishment.
How Much Juice Is Too Much Juice?
When starting on a cleanse, you will choose the number of days your juice cleanse will last. On these days, you will only be consuming juice—these will be your meals for the set timeframe. To help minimize hunger, spread your juices throughout the day in place of meals, aiming for four to five juices per day.
A good rule of thumb is to start cleansing with 64 oz of juice. But keep this mind, this is a starting point and you might need to make adjustments based on your body and your lifestyle. You want to drink enough juice to feel full, and if you still feel hungry, it's a sign that you might need to introduce more juice into your day. If the time comes for you to drink your next juice and you're not feeling hungry, drink it anyway. Skipping your serving could result in your blood sugar crashing.
When You Should Drink Less Juice
For anyone with underlying health conditions, too much juice can be damaging to their body. Consider for a moment how much natural sugar is in a single piece of fruit. Most juice cleanses are loaded with sugar from the juices—this increased amount of sugar causes your body to produce more insulin, making your blood sugar plummet and can result in dizziness and feeling lightheaded.
If you have issues with your kidneys or liver or are diabetic, a juice cleanse might not be for you. That doesn't mean you need to opt out completely. You can do a juice cleanse but should consider the following changes:
Include more vegetables in your juice – Limit the number of fruits making up your juice. This will help to reduce the amount of sugar you are consuming.
Incorporate more solids into your diet – Instead of consuming 64 oz of juice in a day, you can limit that to 32 oz and mix in salads, vegetables, and nuts to reach your daily calorie goals.
Replace one meal a day with a juice – Ease your body into the change by replacing one meal a day with a 16 oz juice so you reap the rewards while not relying solely on juice.
Making a few adjustments to lower the amount of juice you're consuming will allow you to safely cleanse.
Why Should You Drink More Juice
While on a juice cleanse you should be taking it relatively easy. If you normally run ten miles a week, you might need to cut back for the duration of the cleanse. But that doesn't mean you need to give up your daily workout—you just might need to modify your cleanse slightly.
As with any diet, you lose weight when your caloric intake is lower than the number of calories you burned. However, to safely lose weight, you should not drop below 1,000 calories a day. When eating solid foods, this isn't hard to do. But because your juices will be lower in calories, you need to monitor the number of calories entering your body if you plan on working out throughout the cleanse.
Whether you're participating in a high impact working or taking a brisk walk around the neighborhood, you might need to add one or two additional juices into your daily routine.
If you notice headaches, lightheadedness, stomach pains, or cramps, your body might be telling you that it's craving more. Every person is different and their body's needs are specific to them. Adjust throughout your cleanse until you land on the ideal amount of juice that seems right for you.
What Types of Juices You Should Drink Each Day
You don't have to be a vegetable connoisseur to enjoy a juice cleanse. People with any palette preference can usually find a juice they like because there's a wide variety to choose from.
The best part of the juice cleanse is that you can mix and match your juices so you never get tired of one flavor. You usually have six 16 oz juices to consume each day and can choose from:
Green Juice – A good green juice is the staple to any juice cleanse. While this isn't typically as sweet as most juices, it's still a crowd favorite full of leafy greens like kale, spinach, cabbage, bok choy, and celery. The greener your juice, the better it is for you.
Protein Juice – Because most of your "meals" are in the form of liquid, it can be hard to keep protein levels up while engaging in a juice cleanse. By incorporating almond milk or cashew milk into your juice, you can enjoy a creamier juice that provides both fat and protein.
Citrus Juice – Everyone knows that Vitamin C is a necessity. Slurping down juice filled with citrus (think oranges, lemons, and limes!) will help to boost your immune system while detoxing your body.
Carrot Juice – When you think of vegetables that would be in a juice, most people don't naturally think of carrots. That doesn't mean they don't make a tasty beverage! They are also high in beta-carotene which is great for your eyes.
Beet Juice – Beets are packed with vitamins and minerals to give your body a little boost. Enjoy this earthy flavor profile while reaping many benefits like reduced blood pressure, glowing skin, and improved digestion!
These are just a few examples of the variety of juices out on the market. When on a juice cleanse, you'll be consuming 64 oz each day—you can decide how you want to split those up and incorporate a variety of tastes and flavors into your day!