So you've decided you like the idea of a juice cleanse but are not sure it's for you? How long should you actually do a juice cleanse?
The answer depends on you! There are loads of benefits to juice cleansing but it can also be hard going. If it's your first time cleansing it's best to stick to a shorter period of 1-3 days. If you're a cleansing pro then maybe a longer period of time is just the challenge you need.
It can feel very overwhelming for beginners to decide how long to cleanse for so I've put together this handy guide to help.
First I'll go over the different time options and which one will suit you best and then we'll look into the benefits and potential issues that can arise when you do a juice cleanse. Check out my top juice cleanses here if you're interested.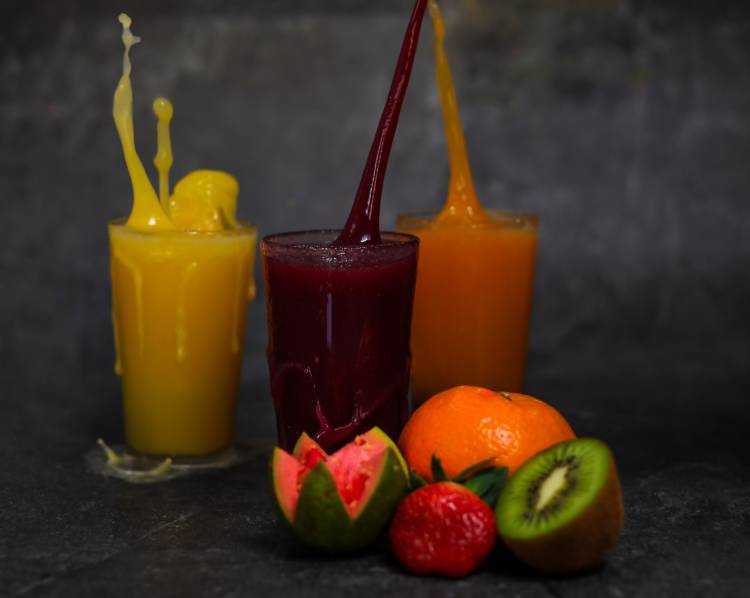 How Long Should You Do A Juice Cleanse?
There are lots of options when it comes to the length of time a cleanse should last. I've selected the most popular time frames people choose so we can look at them a bit more in depth.
1 Day Cleanse
Perfect for the novice cleanser a 1 day juice cleanse isn't as daunting a commitment as the longer ones but still boasts a whole host of benefits because of all the fruits and vegetables you'll consume. A 1 day cleanse is ideal to squeeze a cleanse in over the weekend or to give you a quick boost when your diet has gone off track!
The cleanse lasts for 24 hours and normally involves 6 juices. Drink them every 2-3 hours alongside plenty of water. Feel free to add in herbal tea or nutrient shots as well as the basic juices.
Monitor how you feel and if it's your first time or you're just too hungry to function then it's ok to have a small snack of fresh whole fruit or a handful of nuts. It's better to take a small snack rather than getting so uncomfortable that you give up the cleanse all-together!
A 1 day juice cleanse can be done monthly or scheduled a week or so before a big event. It's a nice, gentle option for first timers and can really open your eyes to the juicing world. You'll lose weight but not a serious amount.
3 Day Cleanse
If you've got the 1 day cleanse nailed and are looking for a bit more of a challenge then look no further! The three day cleanse is a test of perseverance and determination.
Very similar to the 1 day cleanse you'll be consuming 6 fruit and vegetable juices a day. The first day is normally the adjustment period and can be variable for everyone. Some people find it easy whereas others find it the hardest as your body gets used to it.
Keep up that determination though, it gets easier! I find that once you get halfway through day 2 and past the midway point then the mental barrier is much easier to push through.
As this cleanse is a bit longer it's really important to be very mindful about re-introducing solid food afterward. Go very slowly and start with soups and salads. Be sure to give yourself the full week to return to normal eating.
5-7 Day Juice Cleanse
A more advanced option, the 5 day or week long juice cleanse is not for the faint-hearted. When you're juice cleansing for this long it's really important to add in a multivitamin supplement to ensure you're not lacking on these.
Do not partake in any intense physical activities so put the gym pass away until after the fast. Going for so long without solid food can make you feel faint, lightheaded and quite weak so adding in a workout is a recipe for passing out.
The longer length of the week-long juice cleanse makes it a better option for those who have issues with chronic stress or those whose body needs a real de-tox from years of bad eating habits.
As with the shorter juice cleanses its 6 fruit and vegetable juices a day, repeat. Take it slow, don't overthink and before you know it you'll be on day 7 wondering why you were ever concerned! But you can prepare yourself for serious weight loss
2-4 Week Juice Cleanse
This is the maximum length you should do a juice cleanse but also results in maximum weight loss. 2 weeks is optimum but some people have health reasons for continuing to the 4-week mark. If you are keen on the 4 week cleanse it's recommended that the juices in the second 2 weeks are accompanied with cleansing foods. Speak to a registered dietician to find out more.
The 2 week cleanse is the ultimate challenge. It detoxes everything from your body and when done correctly will even cleanse out negative behaviours and trapped emotions. And how can this much green vegetable juice not be good for you? 2 weeks is a serious amount of fruits and vegetables.
The first week is tough, you'll be put through your paces and you will want to give up. Be mindful, monitor how you feel and most importantly be kind to yourself. You're undergoing an immense challenge and if you're really struggling then adding in some fruit, veggies, soup or nuts is fine. You won't ruin the cleanse by adding these in occasionally.
Even more so than the week cleanse be very gradual about re-introducing solid food. It's best to take 2 weeks to return to normal eating rather than just 1 week. You might experience a little weight gain after reintroducing food but this is totally normal don't worry.
By the time you get to week 2 the results will be showing themselves. You'll feel lighter, full of energy and clear headed. It's a tough option but well worth it if you can stick it out!
Which Option Should I Choose?
There's so many options when it comes to cleansing so how do I know which is the right timeframe for me?
Well the answer is everyone is different. What suits some people won't necessarily suit others. You have to take into account so many factors to do with your current diet, lifestyle, any illnesses etc. It really comes down to you as an individual and what you feel is manageable.
Here is a list of what length of time may suit you that can help as a rough guide to getting started.
1 Day Juice Cleanse
The 1 day cleanse is ideal for first-timers. It's not a huge commitment and a gentle way to ease you into the world of cleansing. It can easily fit in with most lifestyles and regular diets.
It's also a great option for health nuts, and fitness fanatics. If you're pretty much on track with your diet already but just need a pick me up then one day is plenty of time to rid your body of nasties.
A final option for the 1 day Juice fast is a boost before a date or a night out etc. If you want to feel fresher, lighter and more confident then schedule a 1 day cleanse for a few days before the big night.
3 Day Juice Cleanse
Ideal if you have the 1 day juice detox nailed! If you need a bit more of a challenge then extending to the 3 day cleanse can give you the added benefits that come with a longer juice detox without it going on too long.
If you've been on a short course of medication then the 3 day juice cleanse gives you enough time to really rid your body of any by-products that have built up.
Another great reason to choose the 3 day juice fast is after an indulgent holiday, or after falling off the healthy eating wagon for a while. 3 days is a good amount of time to kick you back into gear.
A final reason you may choose the 3 day cleanse is following a stressful period of time (ie an exam, work deadline, competition etc). The short, intense period of stress manifests in the body in many different ways and it can take a few days to re-set.
5-7 Day Juice Cleanse
Ideal if you have the 1 and 3 day one nailed. If you're finding the three days a piece of cake are needing a bigger goal to be set then a week juice cleanse is just the ticket!
If you've had a long period of illness/been on medications for a longer course or if you've been really neglectful of your body for a while and need a total system re-boot then a week long cleanse is called for.
The 5-7 days cleanses are no easy feat, your body will go through a lot of changes as you push on but the results will be noticeable and long lasting if you manage to make it to the finish line.
2 Week Juice Cleanse
Only for pro cleansers not beginners, the 2 week cleanse is an advanced course. Ideal for cleansing veterans and people who love to push themselves to the limit, a 2 week cleanse should not be attempted without consulting a dietitian or doctor beforehand.
5 Health Benefits Of Doing A Juice Cleanse
Juice cleansing is a quick and effective way to re-boot your system and has a whole host of health benefits. If you're just back from holiday or had one of those all too familiar weekends of over-indulgence the heavy food and alcohol can leave you feeling sluggish and bloated (don't worry, we've all been there!)
Alongside just generally getting you back on track, juice cleanses have plenty of benefits that certainly make them worth considering.
Eliminates Toxins
Junk food and alcohol, although wonderful in the moment, is not kind to your body or digestive system long term. Your liver has to work really hard to remove all the toxins created when you over-indulge. The vitamins and antioxidants found in fresh juices help support a healthy liver and supplies it with the things it needs to work optimally and allow detoxification.
Weight Loss
Both short term and long term weight loss can be achieved whilst on a juice cleanse. The initial stage of the cleanse will eliminate excess water that causes bloating. This gives a rapid loss of pounds. It's important to understand that the initial water weight can easily be put back on if you don't follow the juice cleanse with a healthy balanced diet. If you carefully watch what you eat following the cleanse it can be a great kick-starter for long term weight loss.
Immune System Boost
Vitamins and antioxidants are essential to keep the immune system working well. Fresh fruit and veg found in juices contain loads of good vitamins, minerals and antioxidants which help keep your body healthy and ready to fight off infection.
Clearer Skin
Although there are a lot of factors (like hormones, genetics, stress etc) that can cause acne, diet certainly can play a role in breakouts. Sugar or simple carbohydrate rich foods like chocolate, soda, bread and chips are known to aggravate skin. Another culprit for some people is dairy. I know from first hand experience that mixing dairy with sugar (such a delicious combination in ice cream or milkshakes) is guaranteed to make my skin angry. Eliminating these from your diet when you do a juice cleanse will help contribute to clearer happier skin.
Feel Better
Taking a break from all those dense, difficult to process food will just make you feel lighter and fresher over-all. Once you get past the hunger discomfort your body will start to adapt to the nutrient packed juices and you'll feel healthier for it. Just make sure you drink loads of water alongside the juice and your body will thank you immensely.
Risks Associated With Cleanses
Whilst juicing has plenty of benefits it's certainly not a one size fits all. It's worth weighing up the potential side effects that can arise when juicing.
Underlying Health Concerns
If you have any underlying health concerns then juicing may exacerbate symptoms. Similarly, if you're pregnant or breastfeeding then juice cleanses are not a good choice. If you feel unwell or are on any medications then always check with your physician before undergoing any diet changes.
Kidney Stones
Watch out if you have kidney issues. Leafy greens (like kale), beetroot and many other veggies used in green juices are high in oxalate. If consumed in large quantities then this can lead to kidney stones. If you're concerned about these risks please make sure you consult a dietician or your doctor before you start a juice cleanse.
Blood Sugar Spikes and Drops
Fruit juices are high in plant sugars. Whilst these give you a good energy burst there is reason to be cautious here. The large intake of sugar (thanks to the high sugar content of fruit) without the fruit fibre to slow the uptake of it, causes your blood sugar spike and then you'll experience a subsequent drop between drinking juices. If you're diabetic or on medications that can affect your blood sugar levels then juice cleanses can be quite dangerous. Always consult your doctor beforehand.
How To Cleanse
Before
On the run up to your cleanse it's really important to prepare your body for the change to a mroe balanced diet. For 1-3 days pre cleanse make sure you eat plain, nutritious whole foods, avoid too much alcohol and have plenty of diety fibre. Detoxification diets can be hard going so give yourself the best chance.
Cut out processed food, fatty and fried foods, starchy/carb loaded foods like bread and pasta and sugary food. It's also a good idea to avoid caffeine and alcohol.
Eat balanced, homecooked foods and lots of fruit and veggies, grains (like rice, oatmeal, quinoa etc), nuts and seeds.
Animal products are best avoided before a cleanse especially red meats and dairy. Try plant or nut-based milks like almond or soy milk and if you're struggling without meat then some grilled white fish or chicken breast is ok.
Make sure you drink plenty of water on the run up to the cleanse to help start flushing out and detoxifying your system.
During
Aim to drink juice every 2-3 hours to keep your energy levels stable throughout the cleanse. It's important to remember that a lot of your water intake comes from food so even though you're drinking juice you can still suffer from dehydration.
It's important to avoid intense physical activity during the cleanse but an easy walk or gentle stretching yoga class is fine. If you're prone to feeling lightheaded when you get hungry then it's best to avoid anything that requires intense concentration on your cleansing days. Ideally, schedule your juice cleanse for the weekend or a day off work so you're not forced to perform whilst your body is working hard to flush out all that rubbish.
You'll be consuming fewer calories during the cleanse so you may be hungry, when you feel hunger go for a glass of water instead. If you get desperate a few cashew nuts or almonds can usually keep the worst of hunger at bay.
After
Once you've completed your cleanse it's tempting to jump in and start your normal diet right away. It's best to take it slow however and start with a small meal or smoothie. Your stomach will have shrunk during the fast and it can be too much of a shock to start eating normally straight away.
Small frequent meals and plain foods again, just like before the fast is best. You can gradually build up your calorie intake over the first week and stick to healthy foods, no caffeine, sugar, alcohol or processed food for at least a week after the fast.
If you're strict about the cleanse you will find that this continued period of healthy eating will gradually abolish cravings for unhealthy foods allowing you to continue on this healthier lifestyle long term.
Conclusion
So in conclusion, juice cleansing has loads of benefits and is defiantly a worthwhile pursuit.
The length of time you should juice cleanse for is really down to the individual. If you're new to cleansing, start with a manageable timeframe, ideally the 1 day cleanse and work up from there. Your overall health will improve slowly so take your time. And along side juice cleansing try to add in more whole grains and raw vegetables into your regular diet. Your diet is more than just your diet detox after all.
It's important to weigh up the risks associated with cleaning before you jump right in and always consult your doctor before a drastic change in diet.