Got a blender and want to enjoy juice without buying a juicer?
I completely understand, while I love juicing I can accept that juicers are expensive, and what better way to start off juicing than by using your blender and paying less than $20 for a juice strainer.
And I assume you're here because you know a normal sieve won't cut it, I hope you didn't even try with the colander, no, you need a juice strainer.
That's where this guide comes in, I've covered the couple of things you need to know and reviewed the 3 best juice strainers available. So whether you've got a vitamix, any other blender, even a food processor you can start enjoying delicious juice at home.
But first here's a quick rundown of the best juice strainers available on Amazon.
3 Best Juice Strainers
It's time for the main event! I've found and reviewed my 3 favorite juice strainers that are available on Amazon, just click the price & reviews button where you'll be taken through and can order yours.
1. Top Choice – Pro Nut Milk Bag For Juicing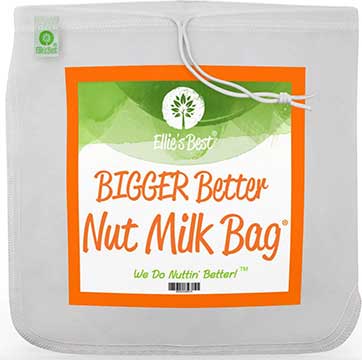 BPA Free
12 inch x 12 inch Size
Free Recipe Book
The Ellie's Best nut milk bag is a convenient large size so you can pour in your juice mix without spilling any and has a really fine mesh on it so that you can really squeeze it to get the juice out without releasing any pulp.
It's nice and easy to hand wash, just turn it inside out and wash in the sink with soap and water then leave to air dry. Some pulp does get caught in the seems but if you scrub at it, it all comes away. Otherwise, you can put it in the washing machine to clean it, just don't put it in the dryer after!
The easiest and most effective way to get the pulp out of juice, an easy choice for the best juice strainer.
2. Best Mesh Strainer For Juicing – YLYL Stainless Steel Fine Mesh Strainer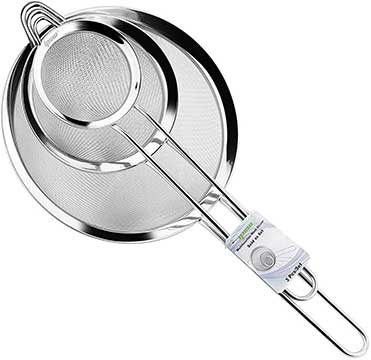 Just Rinse Clean
Sturdy Mesh
No Rusting
This fine mesh strainer is a good choice for juice because it has a thick mesh but the actual holes are still very small. That means it doesn't let pulp through and you can press down quite hard to squeeze the juice out without bending it.
It's also nice and simple to clean, just bash out the pulp into the garbage and rinse out under the hot tap, wipe it with your hand for any small bits that get stuck and leave to dry. Easy! The stainless steel means it won't rust as well which is good because nothing makes me more uneasy than cooking with something that's rusty.
Alternatively it's dishwasher safe so you can clean it out in the dishwasher if that's easier for you.
A good choice of juice strainer if you want something solid and versatile.
3. Best Cloth Strainer For Pulp – Organic Cotton Nut Milk Bag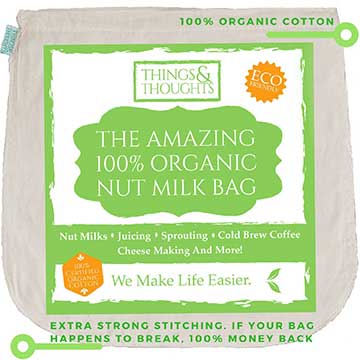 Donates To Bee Saving Charity
Eco Friendly
Mold Resistant
12 inch x 12 inch
Eco-friendly juicing with this nut milk bag, it's made of natural cotton which naturally resists mold but it's so easy to clean that I don't think the chances of mold forming are very high to begin with.
The bag is a nice big 12-inch size giving you lots of space to pour your juice nut what I really like is that a portion of the proceeds from each sale go to Honey Love a charity that is working to help save the bees.
A perfect choice for the eco-friendly juicer.
Types of Juice Strainer
There are two main types of juice strainer but I've gone a little deeper to look at the four major types you can get.
Nut Milk Bags – These are my favorite type of juice strainer, if you're unfamiliar it's just a cloth bag that you pour the juice through (into a bowl!) where you can then close the bag and give it a good squeeze getting all the juice out leaving you with a bag full of pulp ready for the compost.
Cheese Cloth – Very similar to the nut milk bag it's just that it's not bag shaped it's flat so a little more tricky to gather together and squeeze through, if you've already got one then use it but otherwise stick with the bag, it's just so much easier.
Fine mesh strainer – Like a normal sieve but much better looking, get it? Because it's fine? OK just ignore me, but they are different to normal sieves because the mesh has even smaller holes ensuring that next to no pulp can escape while you're pressing the juice into it. My only problem with these is you can't squeeze the pulp in the same way you can with a cloth bag.
Chinois Strainer – Similar to a fine mesh strainer but French so it's more pretentious, but it works with an even smaller hole and can be used with a pestle to really get in and squeeze the juice out. Plus you can use it for making jams or puree's too!
Can You Use A Regular Sieve?
You can use a regular sieve but it just doesn't work as well, the pulp will get through and a lot of juice will stay in the sieve because if you press down to hard even more pulp will get through leaving you more or less where you started.
So leave the sieve for baking and get yourself a juice strainer, a cloth bag doesn't take up much room and makes life a lot easier and more effective.
Conclusion
There you have it, everything you need to know about buying a juice strainer, I hope you found this useful and get to enjoy your pulp-free juice!