You're fasting and using green juice to get healthy, fit, lose weight, and prevent illness and disease. But lately, it seems you're not losing the weight you once did, yet you can't figure out why. Could it be the green juice you're drinking while you're fasting?
Green juice will break a fast because it contains carbohydrates. When your body has an alternative energy source from carbohydrates and glucose, it will stop burning fat, and you stop losing weight. You can use green juice in conjunction with a detoxification diet, but it will break a fast.
By reading this article, you will learn:
Why you shouldn't use green juice during a fast
What you can drink during a fast
How to use green juice to break a fast
Let's get started.
And if you need a juicer, check out this article on the best juicers for leafy greens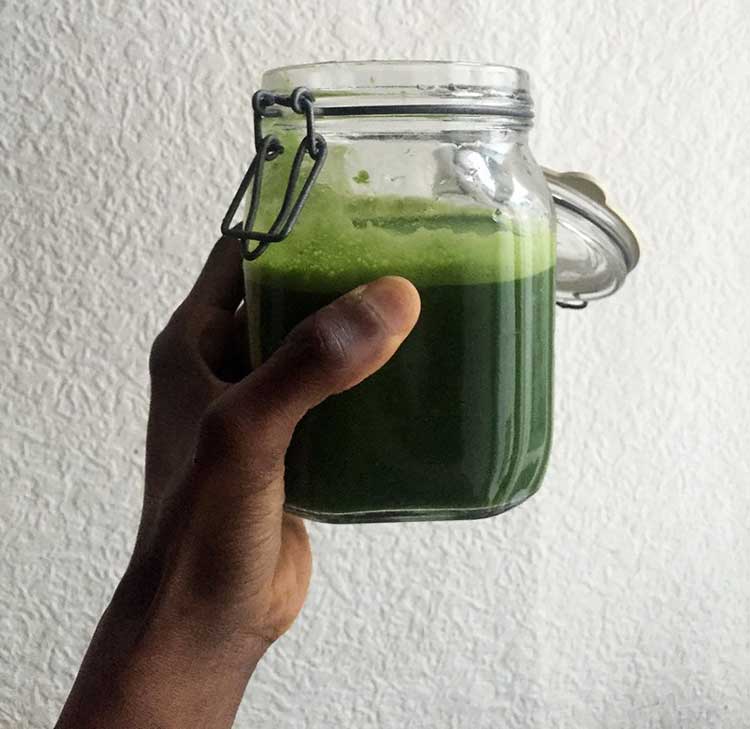 Green Juice Contains Compacted Carbohydrates
Many green juices contain leafy greens, cucumber, seaweed (like spirulina or chlorella), and other "green" vegetables that provide a wealth of nutrition from micronutrients and carbohydrates. While there are not many high-calorie foods in green juice, there are enough calories and carbohydrates to break a fast.
It also depends on how the green juice is prepared. For example, if the vegetables run through a juicer, the vegetables' fiber is absent from the juice and can cause your blood glucose levels to spike. But if everything is thrown in a blender, the vegetables' fiber will slow down the digestion of the sugars within the green juice.
Carbohydrates Break a Fast
Most carbohydrates have enough fructose or glucose to stop the fat-burning process, as glucose is the body's preferred fuel for energy. Because of this, a cup of green juice is usually used first thing in the morning to break a fast or detoxify your body. It is a healthy alternative to coffee if you're trying to limit your caffeine intake or get more greens in your diet.
However, not all carbohydrates cause the same glucose spike as others. Many of the greens used in green juice are low in carbohydrates, such as leafy greens and cucumbers. But when blended, it could create a higher carb content.
Green Juice Can Be Used to Detox
Some sources state that you can drink green juice during a fast and technically be in a fasting state due to how few calories you're consuming from the green juice. But, since a technical fast involves little to no caloric intake, consuming green juice during a fast will not give you the same results as a full fast.
But you can go on a green juice detox diet once every so often can help you get back on track with your diet, increase your digestive enzymes, or let your body rest from the daily onslaught of junk food. Here are some additional benefits of using a green juice detox diet:
Temporarily increase your nutrient intake.
Controls your hunger through additional nutrients.
Boosts your immunity.
Increases your energy.
Stabilizes emotions through a steady intake of vitamins.
What Can You Drink During a Fast?
When you're fasting from food, you'll need to drink something to stay hydrated and curb hunger pains. While you don't want to drink calorie-laden beverages filled with sugar, you'll want to stick to those beverages that offer only hydration and nothing more.
Water
Water is the most important beverage you can drink, even when not fasting. Plain water prevents dehydration, curbs hunger pains, and boosts your metabolism. Mineral water can help relieve nausea, weakness, and headaches that might come from fasting. Drink as much water as you need throughout the day.
Black Coffee
You don't need to give up your morning beverage just because you're fasting. Black coffee without cream or sugar can help boost your metabolism and suppress your appetite, helping you burn more fat and lose weight. But, the moment you add cream or sugar to your coffee, you will end your fast.
One recommendation is to use liquid Stevia in your coffee to make it a little sweeter if you prefer it that way. There are no calories or carbohydrates, and the sweetener comes from the Stevia plant, so it's all-natural.
Unsweetened Tea
Herbal and green teas are especially suited for drinking without any sweetener because they are naturally sweet. Depending on your tastes, black tea might need a slight sweet boost from Stevia, but it can be consumed without a sweetener if you add a wedge of lemon to it. During a fast, you'll want to keep the tea clear without any cream, as that could break your fast.
Bone Broth
Bone broth is an ancient remedy for inflammation, colds, flu, and slowing down the aging process, and it's made by slow cooking beef, turkey, chicken, or fish bones with seasonings for 12-24 hours. The point is to extract the collagen and other minerals from the bones into a broth that you can use for soups or drinking.
Since this doesn't have many calories, it's perfect for fasting, as it can help you feel satisfied so you won't reach for the snacks.
Clear Soups
As with bone broth, clear soups like consumme or other broths will not break your fast, as they don't contain a significant amount of calories. But be careful–not all soups are good during a fast. If the soup you are considering contains any food product, you will break your fast.
Stevia-Sweetened Drinks
As mentioned before, Stevia is an all-natural sweetener that contains no calories or carbs and is safe for fasting. While some claim that Stevia is similar to artificial sweeteners in how it activates your appetite more, that hasn't been completely proven, and in fact, it can help you stay on track during a fast.
Several beverage manufacturers are beginning to produce Stevia-sweetened beverages, which are fine to use during your fast. Here are some recommended beverage brands you can look for:
Zevia teas, sodas, and energy drinks
Bai beverages, including teas
Positive Beverage carbonated drinks
Sobe water
Vitamin Water Zero
Bubbl'r beverages
Other beverage manufacturers are starting to use Stevia. Be sure to read the ingredients before buying any drink, as it also might contain sucralose, which does increase your appetite.
How to Use Green Juice to Break a Fast
Now that you know that green juice breaks a fast let's talk about using green juice when you're ready to break your fast. If you practice intermittent fasting as your normal routine, you most likely have a preferred way to break your fast every day. However, if you fast once in a while, you might not know the best way to break a fast.
If you've been fasting for less than 24 hours, it's fine to have a normal meal without any specialized foods. Your body hasn't had time to burn a lot of fat, nor adjust to no food. But, if you've fasted longer than 24-48 hours, you'll need to start with soft foods to get your body acclimated to food again.
Once your fast is over, start with a glass of green juice and sip slowly. The nutrients and carbohydrates in the juice will get your body working again so that it can digest solid food once more.
Wait about an hour after consuming the juice before having a soft and gentle meal of scrambled eggs or other similar foods. Then continue your meals as normal afterward.
Conclusion
Green juice is a healthy way to start your day when you're not fasting, as it provides you with a quick shot of essential vitamins and minerals. It can also suppress cravings for unhealthy foods later in the day. But it will break a fast.
If you follow the tips in this article for what to drink during a fast, your efforts will be more successful, and you'll enjoy it more. Use green juice to break a fast, not as part of your fasting routine.
Sources