Rhubarb is a peculiar vegetable commonly known for its use as pie filling. But there are other ways you can enjoy this celery-like herb. Have you ever had a taste of rhubarb juice?
Juicing rhubarb is one of the unique ways of preparing this stem vegetable. To make tasty rhubarb juice, you can follow one of two recipes. One involves using a juicer while the other requires you to boil the rhubarb stems. Either way, the results are a delicious pinkish rhubarb brew.
Knowing how to make rhubarb juice can add to your arsenal of tasty and healthy drink recipes. That's why we've gone ahead to outline the nutritional benefits of this plant, its health benefits, and the recipes for making rhubarb juice. Read on.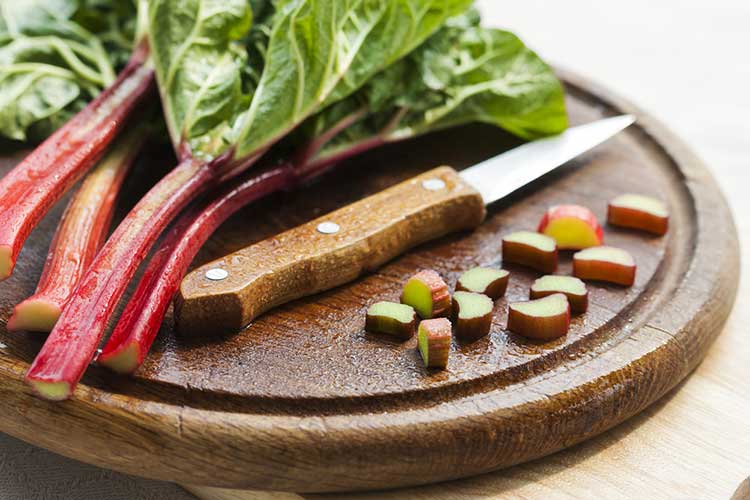 What Is Rhubarb?
Rhubarb is a vegetable that grows in cold weather climates. It has a tart and very tangy taste hence why it's rarely eaten raw. However, this flavor works well in pies and is probably one of the reasons rhubarb is often used as a pie filling. No wonder its nickname, "pie plant."
But even when cooked, you'll need to add a ton of sugar to reduce the tangy taste. It's also common practice to mix rhubarb with strawberries to make the strawberry rhubarb pie. If you don't know how to make that, watch this video for well-detailed instructions:
But rhubarb is not only good for pie. It also makes a delicious drink, rhubarb juice. This is pretty easy to make and takes just a few minutes to prepare. The taste is amazing and interestingly sweet despite rhubarb being such a tart vegetable.
One interesting fact about rhubarb is that, while botanically, it is a vegetable, legally, it's considered a fruit. You see, in 1947, a New York court declared it a fruit because of its popular use as one in most households. But whether fruit or vegetable, rhubarb is a healthy food plant.
In markets and grocery stores, rhubarb is sold by the stalk, similar to celery. In fact, the stem is the only edible part of the plant. The leaves of rhubarb can be poisonous because of their high levels of oxalic acid, and that's why you should never eat them.
The stalks are either light pink, dark pink, red or light green. These colors are not indicators of how ripe or sweet the vegetable is, but when buying, go for the soft, bright-looking stalks that are fresh. You'll make a yummy and pretty pink brew out of them.
Nutritional Benefits of Rhubarb Juice
It's interesting how most of us, especially kids, have to be coerced into eating our vegetables. But the knowledge of all the nutritional goodness found in herbs should be incentive enough to make us take those 3-4 servings in a day.
Rhubarb is one of those vegetables that are highly nutritious as well as delightfully tasty. It's like having the best of both worlds wrapped up in that one stalk.
To begin with, rhubarb is a good source of fiber. The amount of fiber you get is similar to that in oranges, celery, and apples.
Rhubarb also contains minerals like magnesium, calcium, potassium, and manganese. It's also a good source of vitamin C, vitamin K, and B-complex, plus various phytonutrients.
Rhubarb is low in saturated fats and sodium. It has very low cholesterol levels.
Health Benefits of Rhubarb Juice
Considering the many nutrients in rhubarb, this vegetable (or fruit) has a number of health benefits. These include:
Strengthening Bones
One of the important minerals in bone development is calcium. This mineral is contained in abundance in rhubarb. In addition, vitamin K, which is also found in rhubarb, also helps bone growth and development. Therefore, people suffering from osteoporosis or other bone-related issues can benefit greatly from drinking rhubarb juice.
Enhancing Digestive Health
The high fiber content of rhubarb makes it ideal for enhancing digestive health. The fiber and astringent properties of this vegetable help improve peristaltic movements hence ease chronic constipation.
A study was carried out in burn patients to assess rhubarb's influence on gastrointestinal motility and intestinal mucosal barrier. The study confirmed that rhubarb could protect the intestinal mucosal barrier. It does so by secreting gastrointestinal hormones a well as restoring the peristaltic movements.
Anti-Aging
Rhubarb can prevent premature aging by fighting free radicals in the body using the antioxidants it contains. Signs of aging like sagging skin and wrinkles can also be delayed by vitamin C, one of the vitamins found in rhubarb juice.
Helps Prevent Brain Disorders
Rhubarb juice contains vitamin K, which is important for brain development and prevents brain cell damage. Rhubarb juice is, therefore, very important in delaying or even preventing Alzheimer's disease.
Other important nutritional components found in rhubarb juice are the antioxidants, which, by fighting the formation of free radicals, help protect brain health. This was confirmed by researchers who demonstrated the protective property of rhubarb extract against irradiation-induced neuronal cell death.
Boosts Immunity
Rhubarb contains huge amounts of vitamin C. This vitamin is very important in boosting one's immunity by strengthening leukocytes.
Improves Sight
Rhubarb contains good amounts of vitamin A which improves eye health and improves vision.
Anti-Inflammation
Rhubarb has extensive healing properties, especially due to its antioxidant content. Research shows that rhubarb extract can reduce the risk of infection of an incision site by promoting healing. This happens due to the anti-inflammatory nature of rhubarb and its ability to enhance angiogenesis and promote blood circulation.
How to Make Rhubarb Juice
Juicing rhubarb is a quick and easy process. Let's look at two recipes you can use to make your own rhubarb juice.
Rhubarb Boiled Juice Recipe
YIELD: Makes 2 quarts (1.9 liters)
PREP TIME: 20 minutes
TOTAL TIME (Including chilling): 4 hours
Ingredients
2 pounds of Rhubarb stalks
8 cups of water
Instructions
Clean the rhubarb stalks thoroughly and cut out the leaves.
Cut the stalks into one-inch pieces.
Place the rhubarb pieces in a pot and add the water. Place on high heat and bring to a boil.
Reduce the heat and allow it to simmer for 15 minutes while covered.
Allow to cool.
Strain the liquid into a jug using a fine-mesh strainer. Press the rhubarb segments to extract as much juice as possible.
Allow the juice to settle. It will separate, leaving a sludge at the bottom.
Pour the clear pink juice into a bottle or jug. Discard the sludge.
Chill for a few hours then serve cold over ice.
Rhubarb Raw Juice Recipe
PREP TIME: 20 minutes
TOTAL TIME (Including chilling): 4 hours
Ingredients
2 pounds of Rhubarb stalks
Instructions
Wash and rinse the rhubarb stalks thoroughly. Remove the leaves.
Cut the stalks into pieces of about 4-6 inches (about 10-15 cm).
Place the pieces of rhubarb into the juicer feed. About two to three pieces at a time will do.
Juice the stalks completely then add more pieces.
Clean out the blade and filter after juicing about five stalks. This is necessary because fibers from the rhubarb stems may get caught in the juicer. Ensure you turn off the juicer before cleaning the blades.
Once you're done juicing all the stalks, pour the juice into a jug and refrigerate.
Serve cold.
Conclusion
Rhubarb is a healthy stem vegetable that's commonly cooked in pie as the filling. But apart from that, rhubarb can also be consumed in juice form. You can boil the stalks or juice them to form a delicious pink extract.
Rhubarb is a good source of vitamin K, A and C, antioxidants, fiber, and a number of minerals.
The health benefits of rhubarb are numerous. Some of these benefits include anti-inflammation, slowed aging, enhanced digestive health and eye health, strengthening bones, preventing Alzheimer's, and boosting immunity. With this, it's clear that rhubarb juice is not only a tasty drink but a healthy one as well.
Sources