Juicing cleanses have been a popular topic in recent years. Many fruit and vegetable juices are loaded with essential vitamins and minerals, and there's no better way to get them all than drinking them. Lettuce might not be the first food that comes to mind, but it's worth trying out.
You can juice lettuce by placing 11 cups of shredded lettuce into a juicer. Adding a splash of water to the mixture makes it easier to drink, although you can also opt for various fruit juices. Finally, add a squeeze of lemon to the juice to prevent oxidation.
Throughout this article, you'll learn the following information about juicing lettuce:
Detailed instructions to juice all types of lettuce
The best recipes to use with your juiced lettuce drinks
All of the health benefits associated with the drink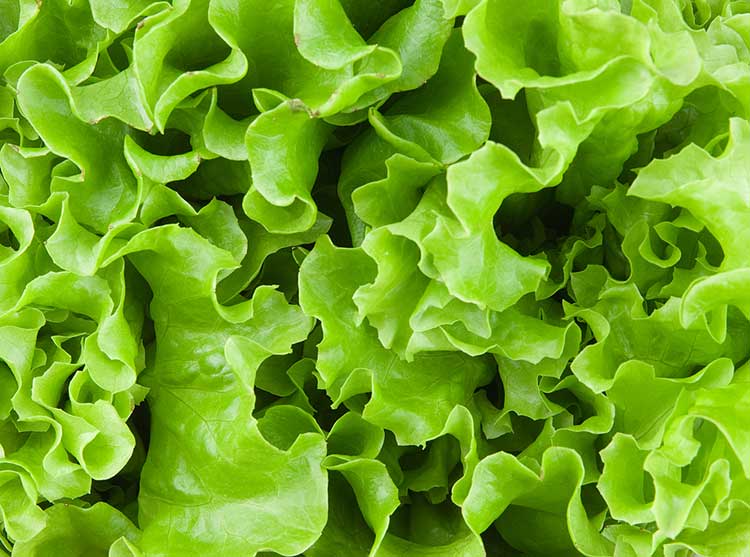 How to Juice Lettuce
Juicing lettuce is an excellent way to boost your nutrition. Keep in mind that darker leaves tend to have more nutrition. For this reason, you shouldn't use iceberg lettuce. It provides similar nutrition to a glass of water, which just results in wasted time.
Here are the supplies you'll need before you start juicing the lettuce:
11 cups of dark green lettuce leaves
One slice of lemon
(Optional) ¼ cup of water
A juicer (blenders won't work with this recipe)
Follow these steps to juice the lettuce leaves:
Start by chopping the dark green lettuce leaves. You'll need to chop quite a bit since they don't have too much moisture in them. Fill up 11 cups of shredded lettuce, then toss it all into a juicer once you're finished.
If you want a more liquidy consistency to the juice, now is the time to add ¼ cup of water. It'll expand the drink significantly, so make sure you don't add more than the recommended amount.
Use the juicer to get about one cup of juice from the shredded lettuce. It might not seem like a lot, but this concentrated liquid is packed with potassium, vitamin A, thiamine, and plenty of other nutrients, according to LiveStrong.
Once you have all of the juice poured into a cup, add a small squeeze of fresh lemon juice. It won't change the flavor too much, but it will prevent oxidation that could otherwise alter the color, flavor, and consistency of the juice.
Drink the juice immediately or store it in the refrigerator. You'll notice quite a bit of separation if left in the fridge for too long; this process is normal. Stir it with a spoon until it's all dissolved in the drink again.
As you can see, juicing lettuce is relatively simple. If you decide to omit steps 2 and 4, you'll be able to finish it in only a couple of minutes. Nothing beats a day's worth of nutritional value for a short preparation time!
If you want to learn all about the best-tasting recipes to add to your juiced lettuce, proceed to the next section.
Best Juiced Lettuce Recipes
Juiced lettuce is delicious on its own, but you can make it even more beneficial for your health, extra-filling, and more enjoyable for your guests. There are many recipes throughout the internet, but below, you'll find the best of the best. Enjoy!
Sweet Lettuce Juice
If you don't want to add too many ingredients, you're in the right place. This simple recipe is exactly what you need to start the day off on the right foot. Let's dive into the necessary ingredients here:
½ cup of a diced green apple
Half of a lemon
Two cups of cold, filtered water
½ cup of a diced cucumber
Two cups of lettuce juice
Here's how to make sweet lettuce juice at home:
Start by dicing the apple and cucumber into their respective measurements. It's advisable to use a green apple for the visual appearance as well as the semi-sour taste. However, a red or yellow apple will do just fine in a pinch.
Add the lettuce juice, diced apples, diced cucumber, and cold water into a blender. Blend everything together until it's in a liquid state. There shouldn't be any chunks leftover. If you want to take this recipe to the next level, juice the apple beforehand.
Pour the juice into a cup, then squeeze the half-lemon into the drink. Stir it all together and enjoy it.
Lettuce Be Healthy by Just Juice
One of the best juiced lettuce recipes would have to be the Lettuce be Healthy drink by Just Juice. It incorporates all of the fruits and veggies you need throughout the day into one drink. You'll feel energetic and healthy from the first sip!
Here's what you'll need:
Two green apples
One stalk of celery
One whole peeled orange
Two cups of juiced lettuce
One whole cucumber
How to make Lettuce be Healthy in your kitchen:
Toss the apples, celery, orange, and cucumber into a blender. Blend them all together for about 30 seconds, stir the mixture, then repeat this step for another 30 seconds. You may have to do it once more if you want to make it extra liquidy.
Add the two cups of juice lettuce into the blender, then turn it on again for another 30 seconds. This step is essential because you'll have to gauge how juiced you want it to be. If it's not coming out to the desired consistency, add ½ of a cup of cold water, then blend it all together again.
That's all there is to it! You can have delicious, nutritious juice in a matter of minutes. The final recipe below is as simple as it gets without stripping the nutrition that you need for a good study session, pre-work focuser, or midday energy boost.
Carrot & Lettuce Juice
We've all enjoyed carrot juice, and some of us have even tried lettuce juice; but what about combining the two? This simple recipe will have you tasting the best of both worlds in under a minute once you've prepared the lettuce juice.
Here's what you'll need to make the drink:
Two carrots
One cup of fresh lettuce juice
How to make carrot and lettuce juice at home:
Toss two carrots into a blender and blend them together.
Add the lettuce juice into the blender, then blend it with the carrots.
Enjoy the drink right away to prevent separation.
Again, this is one of the simplest recipes on the list. You won't have to break a sweat, and most people already have these ingredients in their fridge. The Cookful states that fiber and vitamin A are found throughout most vegetables, which will be a perfect choice for those with digestion issues or in need of an immune system boost.
Conclusion
Lettuce juice isn't as well-known as apple juice, blueberry juice, or watermelon juice. That being said, it's one of the most hydrating drinks that you can enjoy. If you're looking for a way to add nutrition to your diet or simply love the flavor of dark green lettuce, these recipes are the best possible choice for you.
Here's a quick recap of the article:
Lettuce juice has loads of water for optimal hydration.
Add a squeeze of lemon juice to prevent oxidation.
You need at least 11 cups of shredded lettuce to make one cup of lettuce juice.
Always choose dark green leaves to add more nutritional value to the drink.
Consider mixing it with carrots, apples, and a variety of other fruits and vegetables.