We all know that frozen fruits and veggies can work great as part of your favourite smoothies recipes.
But what about juice?
Juicing frozen fruits and frozen vegetables may be something you've wondered about if you're keen to enjoy all of the nutritional value of homemade juices, but want to use ingredients that keep well.
Well, I did some research to find out the difference between fresh fruit and frozen fruits when it comes to juicing.
The good news: you can juice frozen fruit and frozen vegetables! You just need to make sure you're thawing them completely before using them, otherwise your juicer is going to have a hard time.
The (somewhat) bad news: using fresh fruit and fresh vegetables is better, since their nutritional value is higher than their frozen counterparts.
There are some excellent advantages to juicing frozen fruits and veggies, so let's dive in.
Or, if you've gotten this far and realised it's smoothies you're after, I've got my best frozen fruit blender recommendations here.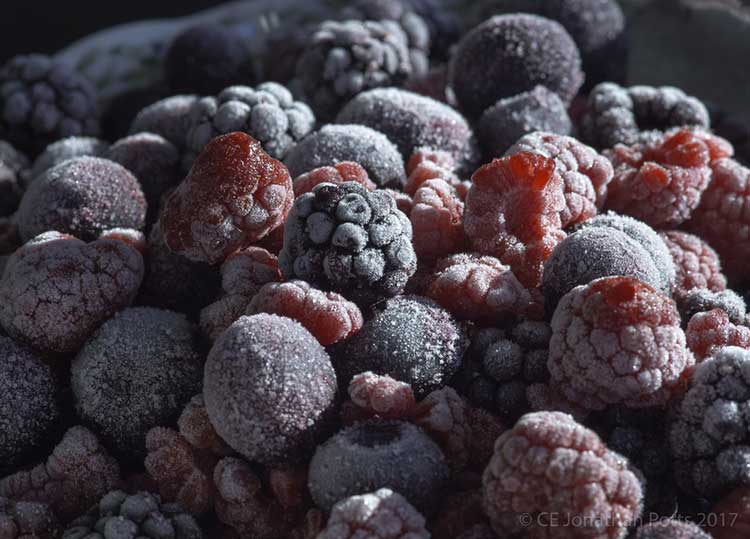 Advantages of Juicing Frozen Fruits and Frozen Vegetables
You Can Enjoy Fruit and Veggies All Year Round
The main advantage of juicing frozen ingredients is that you can enjoy the fruits and vegetables you love even when they're out of season.
Have juice recipes that call for watermelon but it's the middle of winter? Not a problem if you use frozen!
Certain fruits and veggies might not be grown in your area but you can often get them frozen and shipped from a different country. Other countries likely enjoy their fruit seasons at different times of the year to where you live, which can be useful for making your favourite fruit juice!
You Can Keep Ingredients You Only Use Occasionally
Not everyone enjoys a green juice packed with kale every day of the week. Your lip-smacking purple smoothie recipe might not float your boat if you aren't in the mood for blackberries or blueberries that morning.
This can be a problem, since it can mean ingredients you buy for juicing go to waste, which is something we should all try to avoid.
If you know that you only use certain ingredients now and then, opting to buy them frozen means you can keep them for long periods of time and just use them when you like – without worrying about them going bad.
Frozen Fruits and Frozen Vegetables are Better for Juicing
When fresh produce gets frozen, its structure is weakened. It doesn't have the same integrity that it used to. If you tried to eat fruit or veggies like this, you'd be left with a mushy mess that was not appetising at all.
However, if these same ingredients are juiced, it's a different story.
Frozen fruit and frozen vegetables are ideal for juicing because they have a higher yield of juice. Because they've been softened already, the fruit releases so much juice! You'll likely notice a big difference – just remember what we said earlier, thawing your ingredients before using them is important.
Disadvantages of Juicing Frozen Fruits and Vegetables
Juice Made From Frozen Fruit and Veggies Can Taste Different
There really is no rival to fresh juice. When it comes to fresh versus frozen, you can taste the difference.
If your fruit juice or green juice is made entirely from frozen ingredients, its likely that you'll notice a lack of flavour. Some people argue that they can't tell the difference, so it's something you would need to test out for yourself.
If you're used to enjoying local, fresh produce, then it's obvious that using fruit and veggies that have been essentially factory farmed will mean a difference in the taste.
Another issue that comes with using frozen ingredients, is that as you're thawing them out, the fruit juices can disappear with the water. With those juices goes the flavour.
One way around this problem is to consider using a blend of fresh produce and frozen ingredients. Consider the fruits and veggies you don't use very often and go for the frozen alternative, while buying fresh when it comes to your favourites that you have in everything.
Are Frozen Fruits and Frozen Vegetables as Nutritious as Fresh Produce?
There are points to be made on both sides of this argument, there's a lot of information out there.
Some people suggest that frozen fruits and veggies are better because the fruit is allowed to completely ripen before it gets picked. It's then frozen within 48 hours, which locks in the nutrition.
Fresh produce is often picked before it's ready, since that gives it time to ripen en route to the supermarkets for you to buy. During this time, nutrition can be lost.
People who are against using frozen fruit and frozen vegetables often cite the blanching process that it goes through before reaching customers.
This involves the fruit and veggies being put into boiling water for a short time, which kills any germs that they might have and also locks in the color and flavor of the ingredient.
However, during this process, natural enzymes found in the fruit and veggies are often destroyed, as well as vitamins and minerals. Looking for your healthy dose of Vitamin C? You might be better sticking with fresh produce.
The ideal situation is being able to buy fresh ingredients from a local farm or farmers market, which ensures there's been the minimum amount of time between being harvested and becoming part of your fruit juice or green juice.
The compromise, though, is to look for frozen fruit and frozen vegetables that haven't been blanched. That way they still have a good amount of nutritional value and taste.
How to Make Juice from Frozen Fruits and Frozen Vegetables
So, you're convinced. You're ready to make delicious juice recipes using frozen fruit and veggies. But how do you do it? There's really only one thing you need to remember to do this properly:
Thawing Before Juicing
Juicing straight from frozen is a really bad idea, especially if you have a centrifugal juicer, because it can cause the blades to become blunt. This means that your juicer won't work as well as before.
Even a masticating juicer is liable to get damaged when you're juicing frozen fruit.
So put aside the time for thawing!
Allow your ingredients to thaw, either by leaving them out for an extended period (like overnight), or running them under the cold tap for around 30 minutes if you're in a rush.
To warn you – running your frozen fruit and veggies under the tap will wash away some of their nutritional value, so be aware.
Conclusion
Juicing with frozen fruit and frozen vegetables is totally manageable, if a little tricky since they're mushy and can be difficult to feed into your juicer.
Other than that, it's an easy way to enjoy your favourite ingredients all year round. It can even be more cost-effective than always opting for fresh produce!
I've put together an article on the best way to store your frozen juice after you've made it, so if you need some advice on that, check it out here.
And if you still have any questions about juicing using frozen fruits and vegetables, then please let me know in the comments below. I'll answer your question there and if it's relevant, I'll update my article.
Happy Juicing!