It works fine in smoothies but can you juice frozen fruits and vegetables?
It's a question I've thought about and I'm sure you've wondered about it too.
So I did some research, and it turns out you can! But you need to make sure you do it right, and juicing with fresh fruits and vegetables is still the best way to go. I've got more information in the rest of this article but the basics are that most frozen fruit we'll have less nutrition than fresh and before you juice them you need to let them defrost completely otherwise you could end up damaging your juicer.
But there are some great advantages to juicing frozen fruits so let's take a look at what they are.
Or If it's smoothies you're after I've got my best frozen fruit blender recommendations here.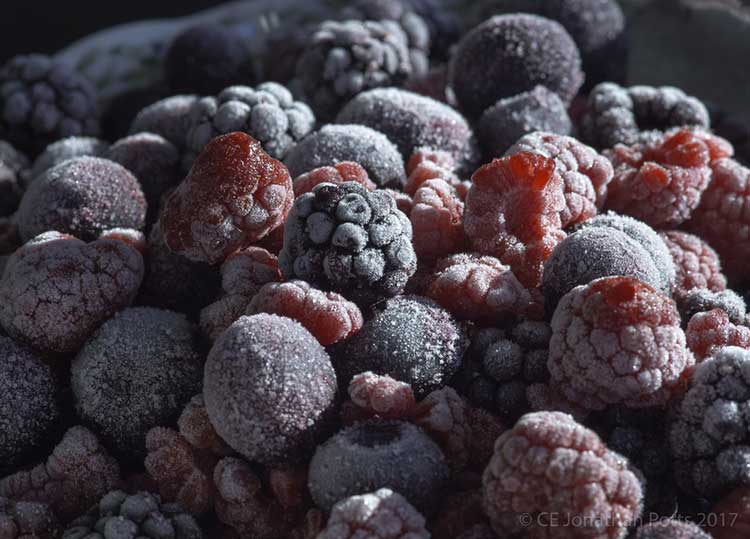 Advantages of juicing frozen fruits
Enjoy the fruits you wouldn't normally get – The main advantage of juicing frozen fruits and vegetables is that you can enjoy produce that's out of season.
Who doesn't like the sound of juicing some strawberries in the middle of winter?
So while it might not be grown near you, often you can get it out of season produce frozen and shipped from a country further South that still has a lot of heat and is possibly in summer so they can still grow things like berries.
You get to keep ingredients you only occasionally use – there are some things you might like in your juice but you don't like to have all the time. maybe you occasionally like blueberries but don't like buying them in because they go to waste. luckily, you can buy them in frozen and keep them in the freezer and only take out as much as you need when you need it.
You get a higher yield of juice – After being frozen the structure of fruits is normally weakened leaving you with a mushy mess. Not nice for eating but ideal for juicing because the already softened fruit gives up its juice really giving you a nice high yield for how much fruit you put in.
Disadvantages of juicing frozen ingredients
Juice made from frozen fruit can taste different – There's something about fruit after it's been frozen, it just never tastes quite the same as having it fresh. And this does pass through into the juice you make with it.
If you make a juice with all frozen fruits and vegetables you can generally taste that that's what you're having. Some people say they can't tell whereas others are adamant that there is a big difference so mainly it's up to you and your taste preference.
I think the difference in taste is most likely because of where the fruit comes from. If you're used to eating fresh home-grown blueberries that you buy from a local farm, a then you're going to notice a big difference when you taste, essentially, factory farmed blueberries from Chile.
Also when the fruit is thawed some of the juices will leak out with the water that defrosts, and with those juices goes some of the flavor.
Are Frozen Fruits and vegetables as nutritious?
I've seen a lot of argument both ways for this, some people argue that frozen is better because the fruit is allowed to ripen completely before being picked, where it then gets frozen within 24 to 48 hours locking in the nutrition.
Whereas fruits that are sold fresh are often picked before they're ripe and allowed to ripen in transit. This can take some weeks before it actually arrived in the stores for you to buy.
In both cases some of the nutrition is lost but often before being frozen fruits and vegetables can be blanched which is where they put into boiling water for a short period of time to kill any germs unlock in the color and flavor. But, as we know, this also destroyed enzymes and can cause some of the minerals and vitamins to be lost.
So ideally you want frozen that's not been blanched, but even better is to buy fresh from a local farm so that you know it's had the minimum amount of time between being harvested and going into your juice.
How To Make Juice From Frozen Fruits and veggies
Juicing straight from frozen is a really bad idea, especially if you have a centrifugal juicer because it can cause the blades to get blunted and then the juicer will stop working as well.
But even a masticating juicer is liable to get damaged when it's juicing straight frozen fruit. So here is the number one tip for juicing from frozen.
Thaw before juicing
This is the most important step because if you don't thaw it properly it will damage your juicer. Take whatever you plan to juice and leave it out the freezer on the counter for a few hours until it fully defrosts, or, you can run it under the cold tap in this sink for about 30 minutes and this will fully defrost if you're in a hurry.
Running it under the tap isn't the best way because you'll lose some of the goodness as you wash away some of the juice that comes out as it thaws, but it does work quickly. Generally, you better taking it out the night before and leaving in a container in the refrigerator to defrost.
Then you can just juice as normal, it's a little tricky because the fruit is quite mushy since it's been frozen already so you might have trouble feeding it in but apart from that it will work just fine.
Conclusion
So you can juice with frozen fruit, you just can't use it while it's frozen you need to make sure it's defrosted completely otherwise you run the risk of damaging your juicer. It's an easy way to enjoy fruit out of season and me quite cost-effective for more expensive fruits like blueberries.
I've also got an article here on freezing juice after you've made it if you're curious.
And if you still have any questions about juicing from frozen then please let me know in the comments below and I'll answer your question there and if it's relevant I will update the article.
Happy Juicing!