Juicing has become more and more popular in recent years. Some people do it for a juice-only diet, while others seek a boost to healthy vitamins and minerals, and many of us simply love the fresh taste of juiced mango. The good news is that you can juice a mango in as little as five steps.
You can choose a mango by peeling it, cutting it into strips or chunks, adding lemon and water, and pureeing it in a blender. You can also use a juicer to expedite the process. Once you have the puree, push it through a cheesecloth-lined mesh strainer. Use the juice for any mango recipes you desire.
Throughout this article, you will also learn the following info about juicing mangoes:
More details about how to juice a mango
Delicious recipes using mango juice
A wide variety of flavors and nutrient-packed juices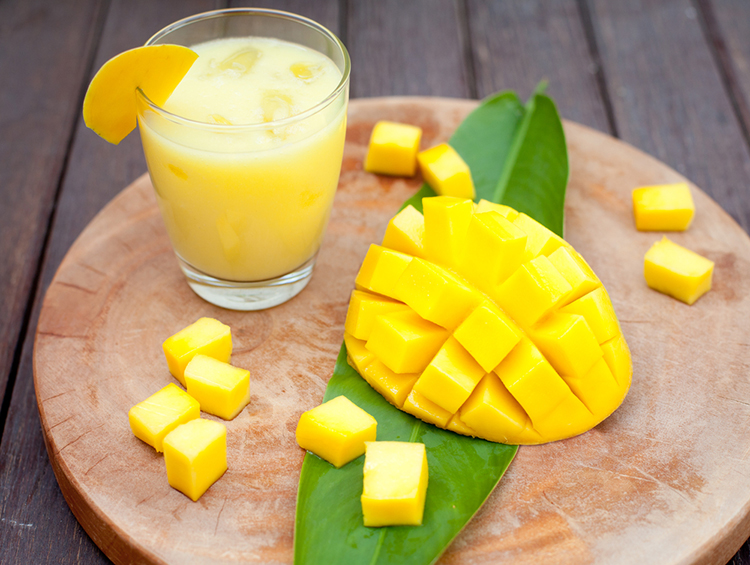 How to Juice a Mango
When you are ready to juice your mango, you will need a handful of supplies:
One or more mangoes
A spatula
Cheesecloth
A fine mesh strainer
1 cup of water
½ of a teaspoon of lemon juice
A knife or peer
Now that you know what you need, let' us dive into the step-by-step guide to juice a mango in under 5 minutes.
Peel the mango. Leaving the peel on the mango will cause all sorts of issues. For example, it'll leave behind tough chunks of the skin. Mangoes have a hardened peel that can withstand blenders for quite some time. It also adds a foul taste to the juice. Peeling it with a knife or potato peeler is the best course of action.
Cut it into strips or chunks. Now that the skin is removed, dice or slice the mango into small, one-inch pieces. Mango doesn't break down very easily, especially when it has the seed inside. Remove the seed, chop it up into chunks or slices, and toss them into the blender or juicer.
Add ½ of a teaspoon of lemon juice, the mango, and 1 cup of water into a blender. Leaf.tv mentions that adding lemon juice to your mango will keep it from oxidizing. Without it, the juice can turn brown or lose its taste too quickly. Don't forget to add the water to turn the mixture into a liquid.
Puree the mango until the chunks are removed. Once you've added all of the ingredients, it's time to mix them together. It should come out as a semi-thick liquid that's a bit too concentrated to taste. The consistency should be denser than water and loaded with pulp.
Pour the liquid through a mesh strainer with cheesecloth, then push it through. Set out a mesh strainer, line it with cheesecloth, and slowly pour the mango puree into it. You'll have to use a spatula or another flat kitchen utensil to push the puree through. Delicious juices will pour through the mesh, free of pulp.
As you can see, it's not too difficult at all. As long as you follow the steps mentioned above to a T, you'll be able to make more recipes with it. For a handful of delicious examples, proceed to the next section.
Best Juiced Mango Recipes
Drinking the mango juice mentioned above is always a great experience, but you can combine it with dozens of ingredients. Make a natural energy drink, a filling workout juice, or a full-on meal replacement with some of the suggestions we have today.
Orange Mango Energy Juice
According to Medical News Today, oranges are one of the most energizing foods on the planet. They're loaded with Vitamin C, boosting your immune system and elevating your energy levels.
Here are what you will need to make this quick and nutritious drink:
One cup of mango juice (as made above)
One fresh orange
A manual juicer
A blender OR a spoon
How to make an orange and mango energy drink:
Pour one cup of mango juice into a blender.
Juice a fresh orange with a manual juicer, such as the Drizom Manual Hand Squeezer. It allows you to push the orange on the tool, twist it, and collect the fresh juice below. You won't have to deal with pulp or seeds, and you can use it for a variety of citrus fruits.
Pour the freshly-squeezed orange juice into the blender with the mango juice.
Mix them together with the blender OR use a spoon to stir them together in a glass.
That's all there is to it! You can also add cinnamon to bring down the sweetness a bit, and it adds a touch of energy-boosting power as well.
Mango Protein Shake
Combining mango juice with your favorite protein shake is an excellent way to add vital nutrients to the shake. However, you can throw a spin on it by following the recipe found below.
What you will need:
One cup of mango juice
One scoop of vanilla protein powder
½ of a teaspoon of cinnamon
Lemon juice
Here is how to make the drink:
Start by pouring one cup of mango juice into a 12-ounce glass or mixer cup.
Add your vanilla protein powder to the juice. You can use chocolate, strawberry, or any other flavor, but vanilla works the best.
Squirt a few drops of lemon juice into the mixture to bring down the protein powder's overpowering flavor.
Stir it together until there aren't any chunks of protein powder, then sprinkle ½ of a teaspoon of cinnamon. Drink up!
Mango Lassi
Lifehack has an excellent list of fruit juice recipes, including this delicious Mango Lassi. Let's review all of the items you will need below:
One cup of almond milk
The juice of one mango
½ of a cup of peach yogurt
1 teaspoon of honey
Cinnamon and cardamom
How to make a Mango Lassi at home:
Pour all of the ingredients into a blender, except for the cinnamon and cardamom.
Mix them together on a low speed to evenly stir them together.
Sprinkle a pinch of cinnamon and cardamom on top and enjoy it right away to prevent settling.
Mango Smoothie Meal Replacement
Replacing a meal with a smoothie can reduce your caloric intake, increase digestion, and promote a healthy metabolism.
Here are the ingredients that you need for this smoothie:
1 1/2 cups spinach
1 cup of water
2 tbsp raw cashews
1 tbsp coconut oil
1 cup peaches
1/2 cup mango juice
How to make your own mango smoothie meal replacement at home:
Add the water, spinach, coconut oil, and cashews into a blender and blend it to a fine liquid.
Add the peaches and mango juice to the drink, blend them, and enjoy it right away for the best taste.
Much like most of the other recipes on this list, a little bit of separation and settling is expected.
Conclusion
Mango juice provides a flavor-packed, nutritional drink to your diet. It can be consumed by itself or added to your favorite smoothies to boost the flavor profile. You can also try mixing it with other juices, such as blueberry juice or watermelon juice.
Here is a breakdown of the article:
Mango juice is packed with vitamin C and other essential vitamins and minerals.
You can make fresh mango juice with a blender, strainer, and cheesecloth.
Remember to add lemon juice to prevent oxidation.
Orange mango juice, mango protein shakes, mango lassi, and mango smoothies are all delicious options.
Sources