There are numerous ways for individuals to keep healthy and stay on track with their food choices. Juice cleanses, and protein shakes are just a couple of those popular methods that have worked for many people. But the big question is if they are interchangeable.
You can drink protein shakes on a juice cleanse, but you need to be careful of protein shakes with fillers and additives that are not beneficial. Your body will process these elements differently, so stick to pure protein sources with a good assortment of fruit and vegetable juices.
Raw Generation have an incredible Protein cleanse worth checking out. Make sure you use discount code JUICEBUFF10 for 10% off.
If your juice cleanse is well-rounded with a wide variety of fruits and vegetables, you will not need extra protein. Alternatively, extremely active individuals will require additional protein during this detox cleanse. In this article, we will discuss the benefits and methods of these two popular weight control methods to help you make better lifestyle choices.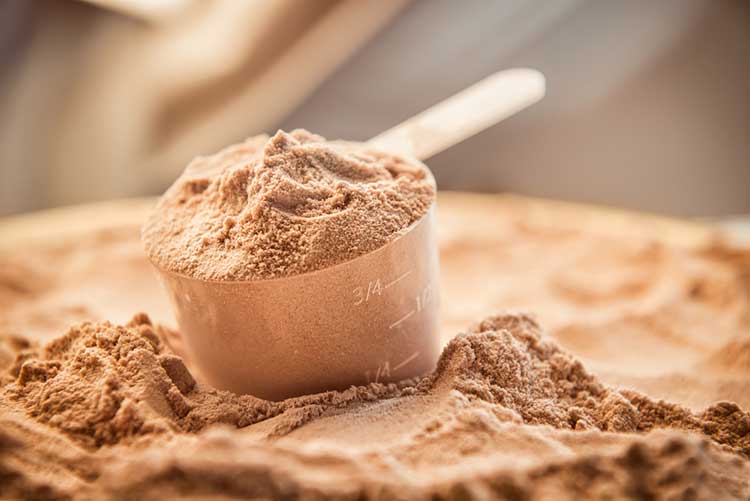 What Are the Benefits of a Juice Cleanse?
A juice cleanse, also known as a juice fast, is the process of consuming a variety of fruit and vegetable juices that have been separated from the pulp. Juice cleanses can be typically anywhere from three to ten days in length. They are not ideal for a long-term diet solution, but rather a brief time where an individual can detox the body, increase energy, and jumpstart weight loss.
Alternatively, blending is when the juice includes the pulp for full consumption. By only taking in the fruit and vegetable juices, there are arguments that you can incorporate an increased amount of fruit and vegetable nutrients instead of eating whole foods.
When considering this, juice cleanses are a highly debatable topic among health professionals, with many attesting to numerous benefits. Some advantages you may find when trying a juice cleanse can include:
Increase the intake of fruits and vegetables that you regularly wouldn't consume
Boost your immune system
Provide more energy
Flush harmful toxins from your body
Improve digestion from the additional enzymes provided in the juice
Aids regular gut health
Reduces inflammation
Provides much-needed antioxidants
Lose weight
Reduce the chance of cancer
Incorporating a juice cleanse into your diet provides additional fiber, essential vitamins, and minerals, as well as plant metabolites, known as phytochemicals. The method of cooking or processing can destroy many of these nutrient-rich, specialized compounds, so juicing can provide these missing nutrients to your diet.
The lack of scientific evidence proving these advantages make some people hesitant about juice cleanses. However, many individuals have found great success with juice cleanses and continue to praise their benefits. If you have been on the fence about trying a juice cleanse yourself, short ones that last three days can be a terrific starting point.
Are You Missing Protein by Doing a Juice Cleanse?
An important consideration when following a juice cleanse is the amount of protein you are taking in. Overall, if you incorporate a wide variety of fruits and vegetables in your juice, there will be adequate protein for your body to process. But even so, many extremely active individuals will require additional protein even during a juicing fast.
By adding extra protein, you are sure to fulfill all of your nutritional requirements you need each day.
When following a juice cleanse, you should examine your activity level and your daily dietary needs. If you suspect that you are not taking in enough protein, you can include more without spoiling your juice cleanse. Adding protein should be done carefully to avoid including types that could counteract the benefits of your juice cleanse.
How Can You Include Protein in a Juice Cleanse?
It is not difficult to include additional protein into your daily diet if you are careful with your choices. When following a juice cleanse, the type of protein you use will be especially important. You do not want to break your juice fast by consuming premade high-calorie, manufactured protein shakes. These types of protein forms will work against you while doing a juice cleanse.
Do not sabotage your health efforts with the wrong kind of protein.
Protein can be added each day into your juices successfully by choosing unflavored, pure protein isolate. You do not want to pick flavored mixes or the cheapest brand you can find on the store shelf. Often those types of protein contain other ingredients that will not benefit you during your juice cleanse. Staying away from highly processed foods is essential during a juice cleanse.
What Are the Best Juice Cleanses?
There are many ways that you can incorporate a juice cleanse into your healthy lifestyle. Some individuals prefer to do their own juicing, while others choose to purchase pre-packaged natural juices. Both of these ways can be effective and beneficial, but each has its advantages and drawbacks. Read more on whether Juice cleanses are worth it here.
I've reviewed the best juice cleanses you can order online here
Making Your Homemade Juice
Creating juice yourself can be a rewarding process. You have control over what juices you are choosing, but you can explore different blends without spending a lot of money trying alternatives. Making your juice at home is a great way to include vegetables that you traditionally wouldn't eat.
You can disguise those less than tasty veggies with some lemon or ginger to make them virtually undetectable in your juice.
You should not juice too much ahead of time, as the finished product will not last for weeks in your refrigerator. Natural juices will lose some of their nutrient content once they become exposed to oxygen, so if you are juicing a smaller batch, store the extra in an airtight container in your fridge for later.
Choose organic fruits and vegetables whenever you have the option. Individuals need to be aware of the numerous pesticides used during the growth of vegetation around the world. Thin-skinned fruits and vegetables are more susceptible to pesticides than thick-skinned ones by nature.
If your budget does not allow for all organic produce, try making all thin-skinned fruits and veggies organic at the very least.
There is a simplified yearly list published from the Environmental Working Group (EWG) that is called The Dirty Dozen, which includes fruits and vegetables that are top risks for ingesting high amounts of pesticides if not bought in organic form. The Clean Fifteen List from the EWG consequently highlights the fruits and vegetables around the United States that have little to no pesticide content when they are grown conventionally.
Purchasing Pre-Packaged Juices
When looking to purchase pre-packaged juices, you will need to ensure that they do not include any additives or preservatives. Juices should be pure and without any added sugar or preservatives. Just because it looks like pure juice does not mean it is. Take the time to read the ingredients beforehand, so you know what is included precisely. Extra processed sugars or preservatives are not what your body needs during a juice cleanse.
If purchasing your juices is more convenient for you, try to research the best organic choices available in your area. Some popular organic juice options are Project Juice and Pure Earth Organics. Often pesticides can be part of fruits and vegetables regularly, so your best bet to stay away from them will be with organic juices.
Conclusion
Adding protein to a juice cleanse can be beneficial and warranted for people looking to take in more fruits and vegetables with additional protein. By adding some pure protein isolate into a juice cleanse, you will get the very best nutrition each day while taking care to only provide exceptional nutrients.
Juice cleanses can be a fantastic way to jumpstart your metabolism, detoxify your body, and just incorporate some added fruits and vegetables into your diet. If you are looking for a short-term solution to take in fruits and veggies with added protein, this could be the solution for you.