Juice cleanses are only on the rise. They've gotten incredibly popular and have lots of good health benefits when they're done correctly.
If you're interested in a juice cleanse, no matter your favorite juice recipe, you need to have the right equipment. Without the right juicer, you just won't get the job done. So I've put together a list of the best juicers I could find that will help you have the best juice cleanse possible!
They're all available on Amazon so just click the links and you can head there to order yours today.
Top 5 Best Juicers For A Juice Cleanse
1. Top choice – Omega J8006HDS Nutrition Center Quiet Dual-Stage Slow Speed Masticating Juicer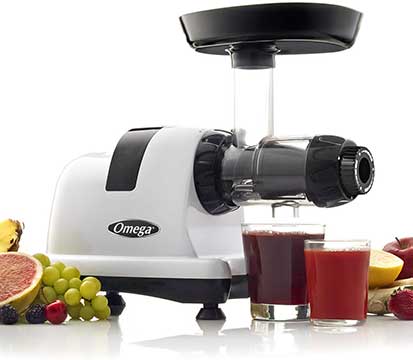 15-Year Warranty
Versatile
Automatic Pulp Ejection
This really is one of the best juicers out there. It's a masticating juicer, which means it grinds up your ingredients slowly to maximise the amount of juice you get out of them. It also stays cool throughout the process, which means your fresh juice will be packed with nutritional – ideal if you're on a juice cleanse and focusing on healthy eating.
It comes with a massive 15-year warranty, so you can be sure you're getting a high quality product that isn't going to break a year or so after you buy it. It'll last as long as you need!
With this juicer, you're also able to make other recipes aside from your favorite juices. You can use the Omega juicer to make things like nut butters, baby food, even soy milk! It's a multi-purpose appliance, so you'll really get good value for your money. A great juicer and a food processor all in one!
It also has an automatic pulp ejection function, which is quite unique. It means that the pulp gets pushed out automatically, so you can juice all of your ingredients continuously without having to stop and start to clean up. I'm a fan of easy cleaning, so this is a big plus for me.
In my opinion, this is the best juicer choice, no matter which juice cleanse recipes you're interested in.
2. Budget Choice – Housnat Slow Masticating Juicer Extractor Easy to Clean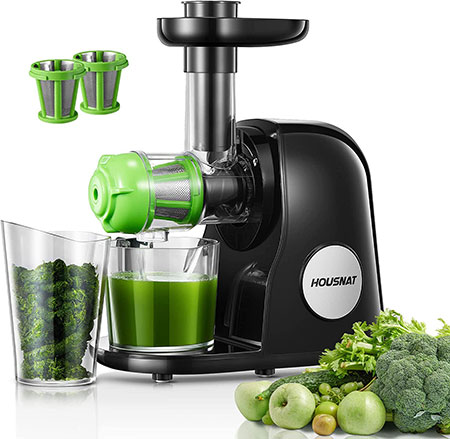 7-Step Juicing System
Runs Quietly
Easy Cleanup
This is another masticating juicer but it's a better choice if you're on a budget. You'll still get all the benefits of a masticating juicer, without the big price tag.
It has a 7-step juicing system to maximise the amount of juice you get out of your ingredients:
Cut
Break
Squeeze
Mill
Separate
Grind
Extract
Even with all of these steps and its heavy duty nature, this juicer runs really quietly. It's as low as 60dB, which means it isn't going to disturb everyone in the morning when you're making your orange juice or first juice cleanse recipe of the day.
All of the parts of the juicer are dishwasher safe and really easy to put together, so if you're juicing every day, this is going to make it easy for you.
3. High-End Choice – Tribest GSE-5000 Greenstar Elite Cold Press Complete Masticating Juicer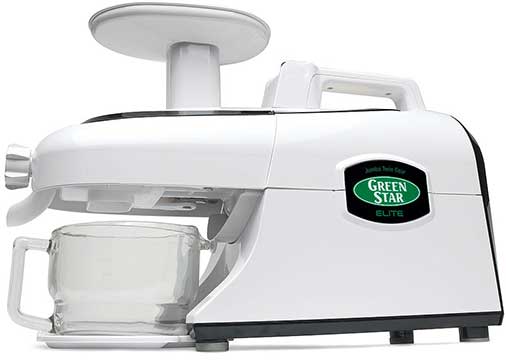 Twin-Gear Juicing System
Sleek Design
Versatile
This isn't a cheap choice but if you're looking for the best of the best, you've found it with this juicer. It's a twin-gear juicer, which means it has two augers inside it to 'chew' up your fruits and veggies. Having two augers makes it even more efficient than a single auger masticating juicer.
As far as looks go, this juicer is very modern-looking. It doesn't have lots of parts that you need to put together and will look great on your countertop. Cleaning is nice and easy too, since it comes with a cleaning brush and scraper that will get the job done easily.
Finally, this is another masticating juicer that you can use to make other things: nut milks, sorbets and even pasta if you have the specialized pasta noodle nozzles.
If you have the budget, then this is an excellent, high-quality product that will keep up with your 5-day juice cleanse as well as you will!
4. Best Fast Juicer For Juice Cleanse – Breville 800JEXL Juice Fountain Elite 1000-Watt Juice Extractor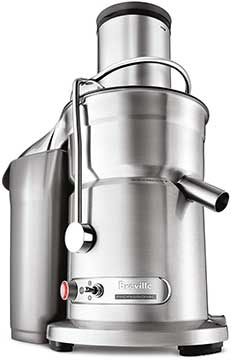 Powerful Motor
Wide Feed Chute
Large Juice Jug and Pulp Container
This is different to the juicers I've talked about already. This is a centrifugal juicer, not a masticating juicer, which means that it runs at a high speed to separate the juice from the pulp, using spinning blades. This juicer in particular has a very powerful motor for doing this – 1000 watts. This means it'll make short work of any ingredients you want to use: carrot juice and beet juice will be totally within reach!
If you aren't keen on having lots of preparation work to do before you try your juicing recipes, then this is a good choice for you. It has a wide feed chute which means you can pop in whole fruits and big handfuls of leafy greens without having to chop them up a lot first.
This juicer also comes with a big juice jug and a big pulp container, which means you should be able to make a whole batch of juice, without having to stop and start to empty your juice and pulp into different glasses or tubs. Minimal clean up, minimal prep and works quickly – this juicer is great for people without a lot of time but still want to enjoy their 3-day cleanse.
5. Best Small Juicer for juicer fast – Breville BJE200XL Compact Juice Fountain 700-Watt Juice Extractor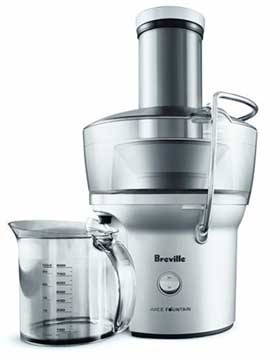 Safety Locking Arm
Compact
Dishwasher Safe
This juicer is unique because it doesn't take up lots of space in your kitchen. It's designed so that the pulp container doesn't stick out to the side. It's more integrated into the design of the juicer, so it's more compact than most other ones you'll come across.
It's also a centrifugal juicer but even with it's powerful motor – 700 watts – it's really safe to use. It has a safety locking arm that must be in place before it will even turn on. This minimises your risk of injury, which is great for the whole family.
The parts of this juicer are dishwasher safe too, and it comes with a cleaning brush to help you really get in there.
This juicer is ideal for a busy kitchen or a small apartment, since it's well-designed and compact. It means that juicing isn't going to take over your home!
F.A.Q
How Long Does Juice Last From A Juicer?
This can vary depending on your juicer and how you store your juice once you've made it.
Fresh juice that you make using a masticating juicer will generally last better than juice you make with a centrifugal juicer. That's because the high-speed process that centrifugal juicers use creates heat and friction, which can make your juice spoil a bit quicker. Once your juice is exposed to air and heat, it starts to oxidise, which is what makes it go bad.
Generally, if you store your juice in the fridge, in an airtight container, then your juice will last up to 3 days. Some ingredients spoil more quickly than others, so don't assume that all of your juice cleanse recipes will last for 3 days. Always use your better judgement. Does it look weird? Does it smell weird? Then don't drink it!
Which Juicer Is Best? Slow Or Fast?
Masticating juicers can also be called slow juicers, since the augers inside them grind up ingredients so slowly. Centrifugal juicers are fast juicers because the spinning blades inside them go so quickly.
I've touched on it a little but I would always recommend a masticating juicer over a centrifugal juicer. The health benefits of a masticating juicer are better, since your juice stays cool through the whole process. The nutrition doesn't get broken down as much as it does in a centrifugal juicer, so the juice is better for you.
Masticating juicers have other benefits too. They're generally quieter than fast juicers, since they aren't running as quickly and generally produce more juice, so you get more for your ingredients.
However, centrifugal juicers are a good choice if you don't have a lot of time, since they can make your favorite juices in much less time than a masticating juicer. They are also generally cheaper, so if you're just deciding whether or not juice cleansing is for you, this can be a good way to try it without committing too much money.
What Juicer Did The 'Fat, Sick and Nearly Dead' Guy Use?
Joe Cross committed to a 60-day juice cleanse to try and boost weight loss and improve his health, since he also suffers from an auto-immune disease which negatively impacts his immune system. He raised a lot of important conversations and ideas about healthy eating in America – check it out if you're interested.
He used a Breville Juice Fountain Plus, which is a less powerful version of the one I reviewed earlier in this article. It's a centrifugal juicer, which means it's quick and affordable. I still think that a masticating juicer is the better option, but he had great results which his high speed juicer.
Should You Add Water When Juicing?
There are better ways to dilute your juice than to add water. Water just weakens the flavour and changes the consistency.
If you aren't keen on the taste of one of your juice cleanse recipes, then try adding sweeter ingredients like apples or other fruits. You could also consider adding watery vegetables like cucumber or celery, since they'll do a similar job to adding water but with more taste and more nutrition. Or you can order juice cleanses online which are really tasty.
What Type Of Juicer Is Best For A Juice Fast?
This is subjective, since only you will know what you're looking to get from a juice cleanse and the juice cleanse recipes you want to use.
I've said it to death by now, but my favorite choice is a masticating (aka slow juicer or cold press juicer) juicer. They just work better and provide you with more juice and more nutrition.
Generally, people who do juice cleanses are doing them for their health benefits or weight loss benefits, so ideally you want to go for the juicer that's going to give you the biggest amount of nutrition per glass of juice, . Hence, the masticating juicer. Especially as a juicer for greens
Should You Eat The Pulp From Juicing?
Maybe not eat it but you can certainly use it. There are lots of recipes out there that use the pulp from fruits and veggies that you juice for your favorite recipes. You can make things like fruit leather, soup stock or dog treats, depending on what you like or what you want to make.
If your pulp is wet when it comes out of your juicer though, I would recommend putting it through your juicer again before using it in another recipe. The juice that's left in the pulp is still good and if you leave it, you could potentially be wasting a lot of juice.
Other Juicers For a Juice Fast Reviewed
Slow Masticating Juicers
Easy Assembly
Compact Design
Runs Quietly
This slow juicer has a 240-watt motor, which works perfectly for juicing your fruits and veggies but also manage it quietly!
It's taller than most other juicers but doesn't take up a lot of countertop space, so this could be a great choice for a small kitchen.
Putting this juicer together is so easy because this Breville juicer has red dots in the places that the different parts are supposed to go. They're really useful and mean that you aren't going to get confused first thing in the morning!
This is also my top Breville juicer.
Wide Feed Chute
Versatile
10-Year Warranty
This juicer is reliable, multi-purpose and easy to use.
It comes with a 10-year warranty, which means that if you invest in this juicer, you'll rest easy in the knowledge that it will last a long time.
You can use this juicer to make lots of other things beside juice, too: sorbet, baby food, nut milk and smoothies. You can even use it to juice wheatgrass, which you usually need a specific juicer for.
Dual-Edge Auger
Auto-Cleaning System
15-Year Warranty
The juicing system in this one is quite unique. It has a dual-edge auger, which means it breaks down the fiber in your ingredients better than other juices, so your juice will be lovely and smooth.
It also gently squeezes your fruits and veggies, which extracts the juice without damaging all the healthy enzymes in your ingredients. This means your healthy juice will be even healthier.
Cleanup is easy with this one too, since it has an automatic cleaning system. This speeds up how long it takes to make juice but also helps to prevent future jams in your juicer. All round, it means this juicer is really efficient.
Fast Centrifugal Juicers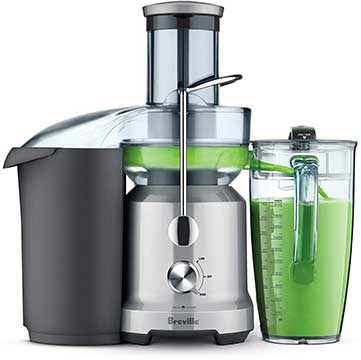 Cold Spin Technology
2 Speed Options
Safety Locking Arm
This centrifugal juicer has been designed with the temperature of juicing process in mind. It still uses spinning blades it'll extract juice without heating it up.
It also comes with 2 speed options, so you can choose which one will juice your ingredients the best. If you're making vegetable juice, then you can choose the faster setting, and if you're juicing your favorite fruits, then you can go for the slower setting.
This juicer has a safety locking arm that has to be in place before it'll work, which minimises the chance of injury.
You can see more centrifugal juicer reviews here
Powerful Motor
5 Speed Options
Foam-Reducing Filter
This juicer has a whopping 1000 watt motor and 5 different speed options to choose from, which means that this juicer will be able to handle just about anything. Beet juice and carrot juice could be an everyday snack!
It also comes with a filter basket that will get rid of the foam that's created by the powerful motor. This means that your juice will perfectly smooth.
Powerful Motor
BPA-Free
2 Speed Options
This has an even more powerful motor – 1100 watts! It might run a little loud but you can avoid this by choosing the slower juicing setting.
All the parts of this juicer are BPA-free and really easy to assemble, so you won't have any hassle when it comes to making your favorite juice recipes.
Conclusion
Thanks for reading, I hope that you've found the perfect juicer for your juice cleanse!
If you have any questions, please let me know in the comments, I'm happy to help.
In my opinion, the best juicer you could go for if you want to start a juice cleanse is the Omega J8006HDS Nutrition Center Quiet Dual-Stage Slow Speed Masticating Juicer. It's efficient and makes the healthiest juices, since the nutrition isn't lost in the juicing process.
Happy Juicing!
Related reading
The Ultimate Guide To Juice Cleansing – Everything You Need To Know for Beginners, Weight Loss, DIY and More
5 Best Juice Cleanses For Weight Loss and Detoxing
Juice recipes for weight loss
5 Best Centrifugal Juicers Reviewed
Can You Freeze Fresh Juice? Store your Juice With The Most Nutrition
How Long Does Fresh Juice Last – Everything You Need To Know
How Often Should You Do A Juice Cleanse?