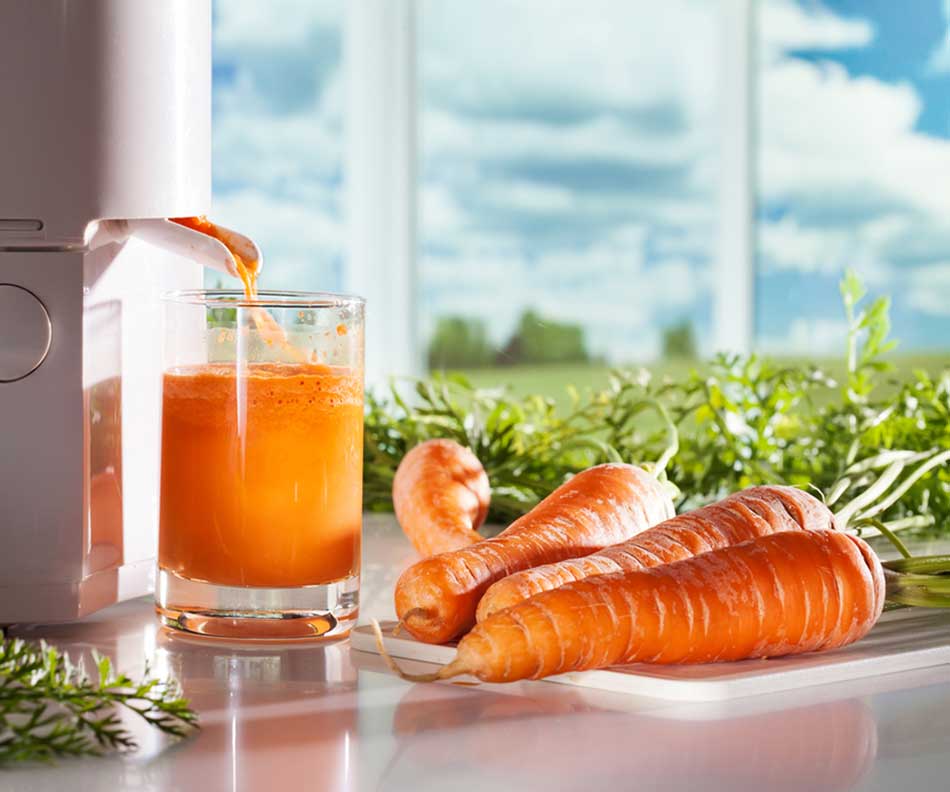 Ah carrot juice…
So many great health benefits from such a small glass of orange goodness.
But carrot juice isn't just going to make itself you've got to get the right equipment!
You can use a blender but then you have to strain it after and it's just never quite the same, I'm all about the juicer (which I'm sure is shocking since my blog is juice buff…).
So I've found the best 5 juicers for carrot juice, I've talked a bit about the different types of juicer and what you need to know before I dive into the reviews themselves.
Just click through the price and review buttons and you'll go to Amazon where you can order yours!
What Type Of Juicer is Best For Carrots
Carrots can be a tough veg, so your juicer needs to have some power in it to be able to juice them properly.
But at the same time they're inexpensive and fairly big so you can happily go with either a masticating juicer or a centrifugal one.
Masticating Juicer
Masticating juicers work nice and slowly and sort of grind the carrots up rather than blending them so you get a really thorough juice extraction.
The slow action helps keep it cool as well so you don't lose any of the nutrients to the heat of the blades like you do in centrifugal ones.
The downside?
It does take longer to actually make the juice and they tend to be a little more expensive.
Centrifugal juicers
These tend to be a little cheaper and more widely available.
They don't usually make as much juice but as I said carrots are inexpensive so it's not a big problem.
The only thing you want to watch out for is making sure you get one with adjustable speed.
That just makes it that little bit more versatile and will help it handle even more juices than just carrot!
Which Is Better?
I'm actually torn, I really like the efficiency of a masticating juicer, but I like the speed and ease of cleaning of a centrifugal one! So I've included both in my reviews.
Carrot Juicing Tips
The last few tips before you get stuck into your new juicer!
Wash Thoroughly Or Buy Organic
If you buy organic there aren't the same chemicals involved so you don't need to wash quite so thoroughly but you do need to make sure the carrots are clean and don't have any dirt on them.
You don't have to peel them just give them a good scrub to get anything off them that shouldn't be there.
Chop Them Up
You don't need to slice them into batons or anything like that but some juicers have a tendency to jam if you put things that are too big into them so it's worth roughly chopping them a couple of times just to avoid it altogether.
Carrot Tops Are Optional
Some people seem to think that if you use the green carrot top you'll get sick.
Not true!
They do add a strange taste and make your nice orange coloured carrot juice a little green so if that's the reason you leave them off then by all means go ahead, just know they won't do you any harm if you do leave them on.
Best Carrot Juicers Reviewed
And here we are at the main event!
I've got my top 5 picks reviewed and a link through to Amazon so you can click through the Price & Reviews button and order yours today.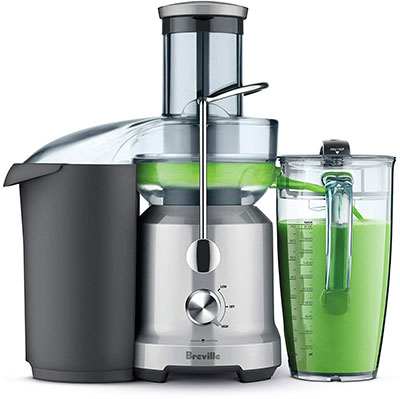 Juice Fountain
Brand: Breville
Type: Centrifugal
2 Speeds
Pulp Collector
Easy To Clean
Now we all love juice but no one I know likes cleaning up their juicer right?
So this may be a centrifugal juicer and not have the same capabilities as a masticating juicer the easy clean up just wins it for me.
It's also got a 3" feed chute so you don't have to waste any time cutting up your carrots so they're teeny tiny
The low speed is great for hard veg like carrots but it's also got a high speed if you ever want to experiment with green juice and need to juice some leafy greens.
Overall, the easy cleaning wins it, a great juicer for carrots.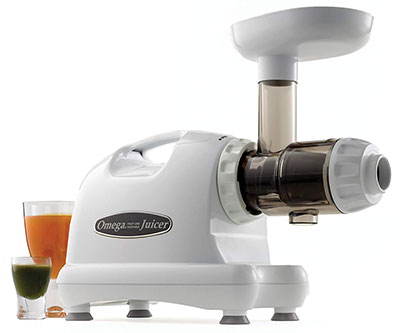 Slow Speed Carrot Juicer
Brand: Omega
Type: Masticating
Easy To Clean
Can Juice Continuously without stopping
Low RPM Means Longer Lasting Juice
Aaahhh the omega, a top quality juicer making delicious juice at slow speed to maximize nutrients.
Surprisingly easy to clean compared to most masticating juicers, and the pulp it spits out is nice and dry so you know nothing's getting wasted.
My only pain point is with the tiny shoot, you need to chop up your veg quite a lot before you put it in otherwise it jams.
The slow speed works well in helping your juice to last longer too, it doesn't create as much heat so the carrots stay fresher and last a little longer. In real terms, it means you'll get 2 days (maybe 3 but that's up to you) instead of just having to drink it as soon as you make it. I quite like being able to batch make juices and have minimal cleanup.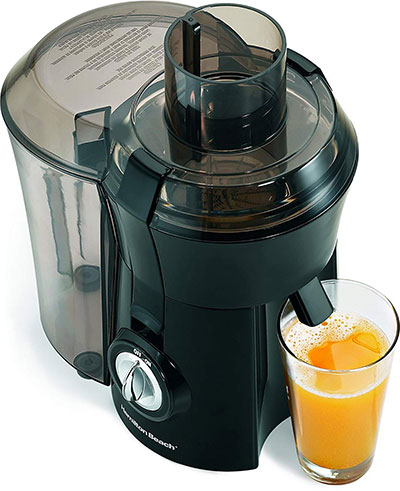 Budget Bliss
Brand: Hamilton Beach
Type: Centrifugal
Great Price
Big Feed Chute
Noisey…
First thing is the great price of this juicer, if you're just looking to dip your toe in and test out some carrot juice this is for you.
It is not for you however if you're in an apartment block and like your neighbours because it is loud. All juicers are fairly noisy but this one seems especially so. It's not a problem for most, it juices pretty quick after all but something to be aware of.
The feed chute is nice and big so you can out a lot of vegetables straight in whole which is nice, just saves that little bit of prep time.
Slow Juice Extractor
Brand: Argus Le
Type: Masticating
Perfect For Chunky Veg
Nice And Quiet
Not Great To Clean
A refreshingly quiet juicer, this takes its time making the juice but has a really nice output for how much you put in.
What's cool about this is that it has a special part inside that means it squeezes while it grinds for extra juice extraction and maximum juicy goodness!
The last nice thing is that you get a 30-day trial so you can try it out properly before you commit to it.
5 Speed Juicer
Brand: Oster
Type: Centrifugal
Very Quick Juicing
Pulp Collector
5 Speed Settings
Another great centrifugal juicer, it's got 5-speed settings so keep to the lowest one for carrots and any other hard fruits or vegetables.
It's noisy but it gets the job done FAST, even on the lower speed settings compared to a masticating juicer but that comes at the cost that you can find there is a little bit of pulp comes through with it.
A little pulp never hurt anyone after all!
Definitely a good intro juicer if you're not prepared for the spend of the omega or the Breville juice fountain.