Ah, carrot juice…
So many great health benefits from such a small glass of orange goodness.
But carrot juice isn't just going to make itself, you've got to get the right equipment!
You can use a blender but then you have to strain it after and it's just never quite the same, I'm all about the juicer (which I'm sure is shocking since my blog is Juice Buff…).
So I've found the 5 best juicers for carrot juice, check out the table below for the rundown and just click through the price and review buttons and you'll go to Amazon where you can order yours!
Top 5 Best Carrot Juicers Reviewed
1. Top Choice – Housnat Slow Masticating Cold Press Juicer Machine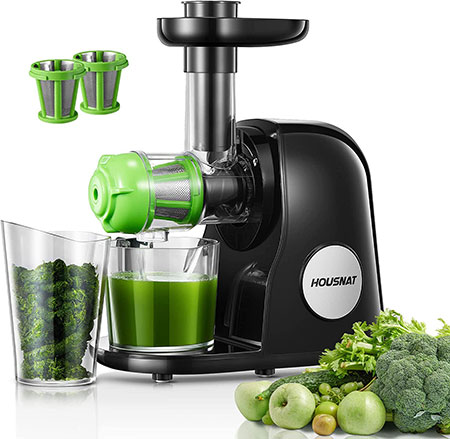 Affordable juicer
Handles All Fruit and Veg
Specially Designed spiral for Maximum Juice Yield
Cold Press for Long Lasting Juice
Easy To Clean
The Housnat was the first juicer I owned and I loved it. It's not too expensive and it does a fantastic job with carrots, which coincidentally was the first juice I made, Carrot, apple, orange, and ginger. Delicious.
This is a cold press slow juicer so it takes longer than a centrifugal juicer to make the juice but the juice it makes is better for you because as the name suggests it stays cold locking in the nutrients. The juice it makes also lasts longer, up to 3 days in fact, which allows you to batch make juice saving you time.
The clean-up is straightforward, all the pieces are slotted together and you just pull them apart and wash everything under a warm running tap, plus it comes with a cleaning brush to help you get right in and clean the pulp filter. All in all, it only takes a couple of minutes to clean.
The one downside this juicer has is the feeding chute is quite narrow so you need to chop up the carrots before you put them in otherwise it will clog. But for the higher amount of juice you get out the other end is worth it saving you money on how much produce you need to buy when you're making the juice.
Easily the best carrot juicer around.
2. Best Fast Juicer For Carrots – Breville BJE430SIL The Juice Fountain Cold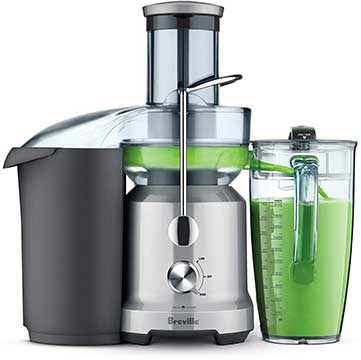 Brand: Breville
Type: Centrifugal
2 Speeds
Pulp Collector
Easy To Clean
Can juice whole carrots
Now we all love juice but no one I know likes cleaning up their juicer right?
So this may be a centrifugal juicer and not have the same capabilities as a masticating juicer the easy clean up just wins it for me.
It's also got a 3" feed chute so you don't have to waste any time cutting up your carrots so they're teeny tiny
The low speed is great for hard vegetables like carrots but it's also got a high speed if you ever want to experiment with green juice and need to juice some leafy greens.
I like how big the pulp collector is on this, 3.4 litres! That means you're not going to have to continuously empty it while your juicing or have the realisation it's full and pulp is spilling out onto the counter.
Also, this is known as a fast juicer compared to the one above, so the juice gets made quicker but you use more carrots if you're in a hurry in the morning this one is ideal though.
Overall, the easy cleaning wins it, a great juicer for carrots.
3. Top Masticating Juicer for Carrots – Omega J8006HDS Nutrition Center Quiet Dual-Stage Cold Press Masticating Juicer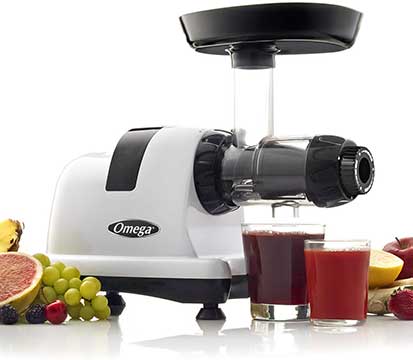 Brand: Omega
Type: Masticating
Easy To Clean
Can Juice Continuously without stopping
Low RPM Means Longer Lasting Juice
Aaahhh the Omega, a high-quality juicer making delicious juice at slow speed to maximize nutrients.
Surprisingly easy to clean compared to most masticating juicers, and the pulp it spits out is nice and dry so you know nothing's getting wasted.
My only pain point is with the tiny shoot, you need to chop up your veg quite a lot before you put it in otherwise it jams.
The slow speed works well in helping your juice to last longer too, it doesn't create as much heat so the carrots stay fresher and last a little longer. In real terms, it means you'll get 2 days (maybe 3 but that's up to you) instead of just having to drink it as soon as you make it. I quite like being able to batch make juices and have minimal cleanup.
What's the difference between this and the Housnat? It's just made to a higher quality, it's got a stainless steel body and it's more powerful juicer that allows you to also make nut butter and milk as well as frozen desserts. so you get a sturdier juicer that will last longer and make juice more easily, but it comes at a higher price. The perfect juicer for a healthy lifestyle
4. Best Budget Juicer For Carrots – Hamilton Beach Big Mouth Juicer Machine
Brand: Hamilton Beach
Type: Centrifugal
Great Price
Big Feed Chute
BPA Free
Noisey…
The first thing is the great price of this juicer if you're just looking to dip your toe in and test out some carrot juice this is for you.
It is not for you however if you're in an apartment block and like your neighbours because it is loud. All centrifugal juicers are fairly noisy but this one seems especially so. It's not a problem for most, it juices pretty quick after all but something to be aware of.
The feed chute is nice and big so you can out a lot of vegetables straight in whole which is nice, just saves that little bit of prep time, although if you want to completely avoid clogging I'd still rough chop the carrots before you juice them.
Another great thing is the cleanup, there aren't many parts so if you want to hand wash it won't take long but the pieces are dishwasher safe so you can clean up in no time.
There is quite a bit of froth on top of this juice when you make it but don't worry that's normal, all it is is air and juice mixed together. It's a bit bitter and you can spoon it off but I just leave it in the bottom of the glass when I finish.
5. Fastest Juicer For Carrots – Oster JusSimple 5 Speed Easy Clean Juice Extractor
Brand: Oster
Type: Centrifugal
Very Quick Juicing
Pulp Collector
5 Speed Settings
Another great centrifugal juicer, it's got 5-speed settings that give you more control over you juicing but you'll want to keep to the lowest speed setting if you want to extract juice from carrots and any other hard fruits or vegetables.
It's noisy but it gets the job done FAST, even on the lower speed settings compared to a masticating juicer but that comes at the cost that you can find there is a little bit of pulp comes through with it.
A little pulp never hurt anyone after all! And for the price point, it's not unreasonable to expect to have to put the juice through a strainer if you want it completely smooth.
You also save time with the special easy clean Rinse 'n Ready filter, this just pops out and you can clean it under the tap. Handy if you're making lots of different juices in batches, you can just pop out the filter and rinse it off when you change the flavour so there's no cross-contamination.
I should point out that this juicer does a great job with carrots but with leafy greens, you'll struggle, not a lot of juice and a whole lot of pulpy mess inside. Check out these juicers for leafy greens if you're interested.
The 5-speed juice is a good intro juicer if you're not prepared for the expense of the Omega or the Breville juice fountain.
What Type Of Juicer Is Best For Carrots
Carrots are a tough veg, so your juicer needs to have some power in it to be able to juice them properly. there are two main types of juicer, a masticating juicer which works with a slow spinning auger that crushes the carrots squeezing out the juice or a centrifugal juicer that works to cut up the juice into mulch and flings it against a filter that allows the juice to escape. Manual juicers won't manage carrots and Twin gear juicers like the Tribest are just too expensive.
With that said let's continue this buyer's guide and look at which type of juicer is best for carrots.
Masticating Juicer
Masticating juicers work nice and slowly and sort of grind the carrots up rather than blending them so you get a really thorough juice extraction.
The slow action helps keep it cool as well so you don't lose any of the nutrients to the heat of the blades as you do in centrifugal ones.
The downside?
It does take longer to make the juice and they tend to be a little more expensive. But I'm a massive fan of cold press juicers, to me, they are the ultimate way to get a glass of fresh juice in the morning.
Centrifugal juicers
These tend to be a little cheaper and more widely available.
They don't usually make as much juice but carrots are inexpensive so it's not a big problem.
The only thing you want to watch out for is making sure you get one with adjustable speed.
That just makes it that little bit more versatile and will help it handle even more juices than just carrot!
Which Is Better?
I'm torn, of both types of juicers I like the efficiency of a masticating juicer, but I like the speed and ease of cleaning of a centrifugal one! I've included both in my reviews but I'm a fan of masticating juicers, to me they are the best ones.
Carrot Juicing Tips
The last few tips for juicing carrots before you get stuck into your new juicer!
Wash Thoroughly Or Buy Organic
If you buy organic there aren't the same chemicals involved so you don't need to wash quite so thoroughly but you do need to make sure the carrots are clean and don't have any dirt on them.
You don't have to peel carrots just give them a good scrub to get anything off them that shouldn't be there, this can be done under the tap it doesn't have to be a big deal but it's important to do before you start the juicing process. It's also a key mistake beginners make.
Chop Them Up
You don't need to slice them into batons or anything like that but some juicers tend to jam if you put things that are too big into them so it's worth roughly chopping them a couple of times just to avoid it altogether. It depends how big the feed tube is into the juicer but you'll want to at least chop it a few times regardless. Otherwise, you'll have to use the reverse function to unclog it, or you'll be wishing there was one!
Carrot Tops Are Optional
Some people seem to think that if you use the green carrot top you'll get sick.
Not true!
They do add a strange taste and make your nice orange coloured carrot juice a little green so if that's the reason you leave them off then, by all means, go ahead, just know they won't do you any harm if you do leave them on.
I chop the tops off when I'm juicing carrots because I don't like the taste and put them in the compost alongside the pulp. Check out these other uses for juice pulp by the way.
F.A.Q
Can masticating juicers juice carrots?
They certainly can! I use my masticating juicer to make carrot juice all the time and it's fine, you don't need to get a centrifugal juicer or a twin gear juicer and I hope you haven't tried to use a manual juicer to make your juice! I'd say they even make better quality juice because it hasn't gotten heated up resulting in lost nutrition.
Can you drink carrot juice every day?
You can! If you go too heavy on drinking carrot juice you might start to turn a little orange, but you need to be juicing at least 10 carrots a day for weeks on end before that starts to happen.
It's all about balance though and I recommend mixing up what veggies you have so you get a nice big variety of nutrients into your diet.
How do you make carrot juice in a juicer?
It's pretty straight forward and similar to how you use any juicer.
Step 1. Clean the carrots under cold water to get them ready to be eaten raw.
Step 2. Cut the carrots into chunks so you don't clog up the feed chute.
Step 3. Feed the carrots in piece by piece and push through with a tamper catching the juice in one jug and the pulp in another.
Step 4. Compost the pulp and enjoy the juice! Easy, you just have to clean the juicer for next time after.
Is it better to eat carrots or juice them?
I think you're best doing both, you need the insoluble fibre to keep your stools firm and passing happily but juicing helps you eat so many more of them in a sitting. But cooking them can change them and release other goodness so I don't like saying one thing is especially better than the other because you should be juicing and eating plenty of fruit and veg.
Is carrot pulp good for you?
It can be, it'll have some of the nutrients of the carrots in it and plenty of insoluble fibre which is what helps stools form, the soluble fibre is in the juice and that's what works to absorb the nutrients into your body.
Basically, the pulp is good for you but I wouldn't worry about trying to eat it after you've juiced. Just compost it and make sure you still have whole fruits and vegetables in your diet.
Other Great Carrot Juicers Reviewed
Breville 800jexl Centrifugal Juicer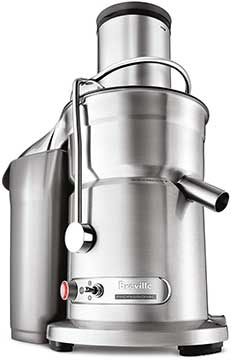 2 Speed control
Die-Cast Steel housing
1000 Watt motor power
Locking Arm For Safety
This Breville is a step up from the one I reviewed further up, it's better built being made of die-cast steel and it's got a more powerful motor for maximum juice extraction. The cost of this upgrade is, well… The cost. It's a good deal more expensive but the extra price is justified in that you're getting a more powerful machine.
The two speeds allow you to make short work of carrots but also anything else you could want to juice. plus the locking arm allows an extra level of safety so it only works if the arm is in place.
A nice large feed chute allows you to get to your juicing in minimal time with the chute being big enough to feed through a whole apple, although you shouldn't put apple seeds in a juicer so I wouldn't rush to do that!
The compact design allows it to sit comfortably on the countertop and like all these juicer reviews it is of course ideal for making carrot juice.
SKG Q8 Slow Masticating Juicer
Vertical Juicer
Large 3.15-inch feed tube
2-year warranty
Reverse function to fix clogging
The SKG Q8 is an excellent and efficient juicer, it slow presses the juice for maximum nutrition and has a built-in reverse function that allows you to reverse the augur in case it gets jammed. This is very handy because while carrot won't get stuck cucumber always tends to get caught.
You can disassemble it easily which makes cleaning up that little bit easier and the spout has a cap which catches drips so it minimises mess on the counter after using it. Heavy duty and great for doing big rounds of juicing but the vertical shape puts a hindrance on it which means it can't be stored quite as easily.
It makes nice dry pulp and allows you to enjoy healthy juice easily at home. What more could you want?
Hurom H-AA Slow Juicer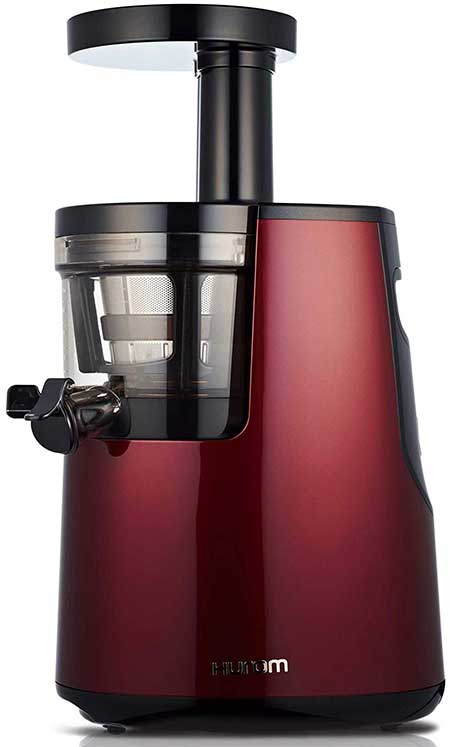 Compact size
Fine and coarse strainers to control pulp
10-year motor warranty
Makes Ice Cream
One of these is not like the other… Ice cream??? Yup, you can look up recipes but you can make ice cream with this juicer using things like frozen yoghurt and raspberry cubes.
But we want to juice carrots, maybe make a little bit of ice cream but basically, we're about the juice. And what a great job it does with the juice! Slow pressed for maximum nutrition and two pulp strainers so you can choose if and how much pulp you want in your juice.
The higher end of prices but a fantastic way to start juicing, make any juice you can think of quickly and efficiently.
Omega NC900HDC Juicer Extractor and Nutrition Center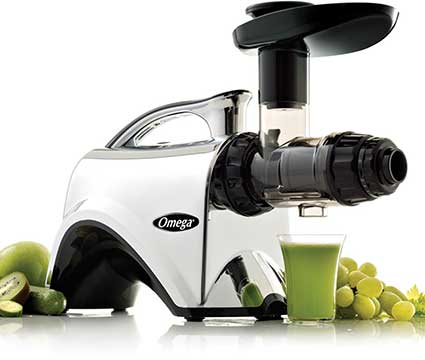 15-year warranty
Quiet motor
Fits on countertop
Another Omega juicer, this one a little more powerful, a little more durable and just generally a little bit better. The main difference with this is the feed chute is bigger so you save time prepping compared to the other Omega juicer on the list making it an ideal choice if you're interested in carrot juice as part of a juice cleanse or juice fast.
It can also be used to grind coffee, spices, make nut butter, make baby food, frozen desserts and it can mince garlic. Though if you use it for garlic you'll be in for a surprise if you don't clean it before you go to make juice next!
The best part has to be the 15-year warranty though, a true testament to the high-quality build this juicer has. A heavy-duty juicer ideal for carrot juice and kale based green juice.
Argus Le Slow Juice Extractor
Brand: Argus Le
Type: Masticating
Perfect For Chunky Veg
Nice And Quiet
Not Great To Clean
A refreshingly quiet juicer, this takes its time making the juice but has a nice output for how much you put in.
What's cool about this is that it has a special part inside that means it squeezes while it grinds for maximum juice extraction and maximum juicy goodness!
The last nice thing is that you get a 30-day trial so you can try it out properly before you commit to it.
Conclusion of the Best Juicer For Carrots
There we have it! You now know everything you could need to know about buying a juicer for carrot juice. I hope you found a juicer you like the look of and have ordered it from Amazon so you can start enjoying delicious nutritious juice at home.
If you have any questions drop me a comment below and I'll get back to you there. if you've got a problem I'm sure other people reading this will have the same problem!