For most people, yogurt is a crucial ingredient in their smoothies. A major reason for its inclusion is that it's healthy and results in creamy, delicious smoothness. But if for some reason you are off yogurt—lactose intolerance, dairy-free diet, or want to try something new—you might be wondering about suitable yogurt alternatives.
There are many yogurt substitutes available. Almond, soy, and coconut milk are the most popular. Others include juice, nut butter, and banana. If you want a healthy thickener, a tastier or creamier smoothie — whatever your preference — you are sure to find an option that hits your sweet spot.
If you would like to learn how to make delicious smoothies without yogurt, dive in. You might just discover some new ingredients that you'll love and recipes you may want to try out. Ready to be inspired to turn your breakfast smoothies or afternoon pick me ups into nutritionally rich, flavorful health drinks your whole family will enjoy? Let's get started then.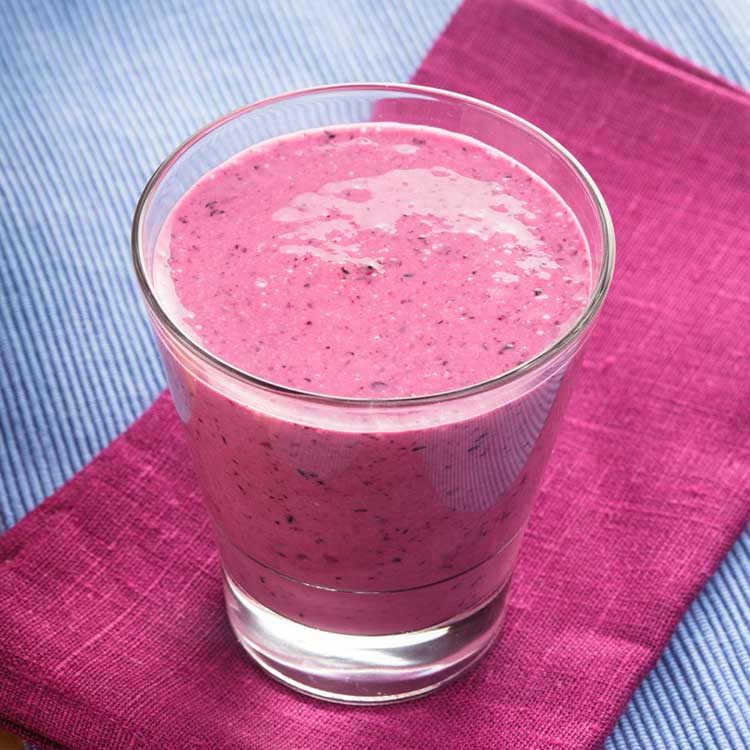 Milk
After yogurt, milk is the most common smoothie ingredient. So, If you dislike the taste of yogurt, are not vegan, and have no issues with dairy products, this is your go-to option. Though the smoothie wouldn't be as thick as it would be if you'd used yogurt, you can still make a delicious and healthy smoothie.
Note that you can also use cultured milk such as kefir or buttermilk instead of yogurt. Like yogurt, cultured milk provides you with probiotics that are important for good gut health.
Plant-Based Milk
Are you vegan or lactose intolerant? Maybe you still like yogurt, but your tummy doesn't agree with it. Consider using plant-based milk like almond, coconut, cashew, or soy milk. Plant-based milk is also an ideal choice if you are on a weight-loss program as it is low-fat.
While yogurt makes smoothies thick due to its fats, you can still get the same from plant-based milk, such as coconut milk, which is also rich in flavor. What's more, coconut cream makes an even better alternative to yogurt since it is heavy and thick; check out this dairy-free smoothie recipe.
Vegan milk is both healthy and tasty. It is also available in supermarkets, health food stores, or you can make yours at home, as shown in the video below:
https://www.youtube.com/watch?v=TQtRv-wdaJU
Non-dairy yogurts such as soy, coconut, and almond-based yogurts are the closest to conventional yogurt. They are also readily available in natural food stores. Try soaked cashew nuts as well; they make a good substitute for greek yogurt.
Fruit Juice
Fruit juice makes yet another non-dairy option you can use to replace yogurt. Here the possibilities are numerous, so you are spoilt for choice. For example, you can add apple or pineapple juice for flavor or make a thick smoothie thinner.
If you are out of fruit juice, plain water will do the trick. This is especially so if you already have fruits like pineapple or mango in your smoothie.
Herbal Teas
Did you know that tea makes a fantastic smoothie ingredient? Herbal teas, including green tea, chamomile tea, and chai tea, will help thin your smoothie. They are also a healthy, low-calorie option.
Coconut Water
Do you enjoy the taste of coconut water? Then go ahead and add it to your smoothie. Coconut water is refreshing, helps to restore hydration, and replenishes electrolytes after a strenuous workout. And, it's minerals are beneficial to your health.
Nutritional Powders
Protein smoothies make refreshing and energizing pre or post-workout drinks. Adding a protein powder will help replace yogurt, a good source of protein. Also, it boosts your energy, keeps you sated longer, and helps in muscle growth.
Protein powders come in various flavors. Furthermore, there are vegan protein powders too. However, if you're lactose-sensitive, avoid whey powders.
Protein powders are easy to use — just mix your preferred nutritional booster with water and add it to your smoothie.
Chia Seeds
For many people, yogurt works as a smoothie thickener. If you fall into this category, try chia seeds as an alternative. They sport a mild, nutty flavor, and offer an energizing boost. Chia seeds are highly absorbent, and a little quantity will thicken your smoothie fast. They are ideal when you are using either juice or coconut water in your smoothie.
Chia seeds are nutrient-dense, gluten-free, whole-grains that brim with Omega-3, magnesium, and calcium, among others. Besides, they are high in fiber but low in calories; hence, they can help you manage your weight.
How to add chia seeds to your smoothie? To 3 tablespoons of water, add a tablespoon of chia seeds. Let the seeds soak for approximately 15 minutes, then add the gelatinous concoction to your smoothie. Fancy a Blueberry Chia Seed Smoothie?
Flax seeds
You can also use flax seeds to enrich your smoothie. They are rich in Omega-3 fatty acids, fiber, and lignans, which may help reduce the risk of some cancers.
Whole flax seeds lend your smoothie a grittier texture than ground flaxseed. However, your body absorbs ground flaxseed (flax meal) with more ease and extracts greater nutritional value while at it. Whole flaxseeds, on the other hand, often pass through the digestive system 'unscathed''. Hence you might lose out on the nutrients.
Here is an easy flax seed smoothie to jumpstart your day.
Nut Butter
Nut butter is a quality and healthy choice for healthy fats, protein, and fiber. Use nut butter if you are looking to make your smoothie thicker. Either peanut butter or almond butter is a delicious choice. Sunflower, cashew or hazelnut butter are also excellent options.
Are you looking for the perfect fruit to compliment your nut butter smoothie? Try bananas or apples for an awesome, tasty combo. For a creamy and refreshing smoothie, try this classic peanut butter smoothie.
Avocado
Are you wondering how to replace the creaminess of yogurt? How about adding avocado? Avocados are high in fatty acids, and when you blend them, they produce a luscious creamy texture.
If you find avocados bland-tasting, try adding fruits or nuts to your smoothie to improve the flavor. Fortunately, most people love avocados just as they are, so this Avocado Lime smoothie that's bursting with flavor will be sure to impress.
Banana
This top smoothie ingredient needs no introduction. Banana makes a superb yogurt substitute while adding a smooth and thick texture to your smoothie. Better yet, try a frozen banana for a creamier texture. Adding banana will also make your smoothie sweet-tasting; hence it's an excellent choice to make a green smoothie.
Note that this potassium-packed fruit contains lots of sugar. Go easy on it, especially if you have diabetes, as it can spike your blood sugar.
Sweet-Potatoes
Cooled (cooked) sweet potatoes make an unusual but delicious yogurt substitute. And, they help make your smoothie thicker and sweeter. They go exceptionally well with nuts, applesauce, and cinnamon. If you want an extra-filling smoothie or a subtle way to sneak in veggies for the kids, a sweet-potato smoothie works anytime.
Final Thoughts
There you have it — a choice of 12 different yogurt substitutes plus recipes to get you started.
What if you want to try out your own thing? How do you decide which yogurt substitute to use?
First, choose your basic ingredients. These could be your choice of fruits, vegetables, or herbs such as mango, baby spinach, and ginger. Since each component is unique, the resulting mix will guide you on what else your smoothie needs.
For example, if your smoothie has fruits only, it might require more creaminess; hence you might want to add nut butter. If your smoothie already has some liquids, it might need thickening, so add some banana or avocado to top it off.
Try out different variations of your favorite ingredients and see what yogurt substitutes work with what. Better yet, use the recipes provided and add your twist to make them uniquely yours.